RoK backs Viet Nam's tourism recovery scheme
VGP - The Republic of Korea will stand by Viet Nam in a bid to forge an environment for more people to enjoy the amazing culture and natural heritages of Viet Nam, Korean Ambassador to Viet Nam Park Noh-wan told VGP in a recent interview.
April 13, 2022 2:51 PM GMT+7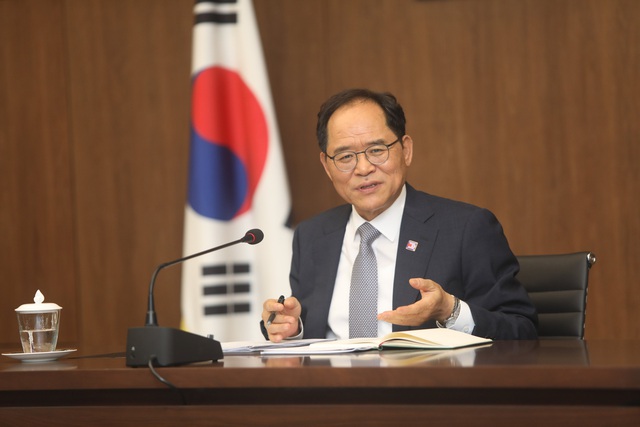 Viet Nam has opened its borders to foreign tourists from March 15, 2022. How do you assess the decision on tourism reopening and prospects for inbound tourism recovery in Viet Nam?

Ambassador Park Noh-wan: The RoK accounted for the second largest number of foreign visitors to Viet Nam with 4.8 million in 2019 before the pandemic broke out. This figure well demonstrates that Korean nationals are very interested in tourism in this beautiful country.
The RoK therefore wholeheartedly welcomes the decision by the Vietnamese Government to reopen the country to holidaymakers from other nations.
New policies including not requiring travelers to Viet Nam with a valid COVID-19 test result to be quarantined and not requiring travelers under two years of age to be tested for COVID-19 will attract more tourists to Viet Nam for sure - including Koreans.
Indeed, visa exemption policy up to 15 days for nationals of 13 countries including the RoK will truly encourage more people from around the globe to come here.
In fact, this year marks the 30th anniversary of Viet Nam-Korea diplomatic ties. As the Korean Government is planning various events and boosting people-to-people exchanges to celebrate the anniversary.
With the Vietnamese Government's decision to begin tourism again, I hope that the number of Korean visitors may exceed the record in 2019.
In 2022, Viet Nam targets to attract over 5 million international guests. The country also launched the "Live fully in Viet Nam" campaign as part of its effort welcome back international tourists. Is the goal is feasible?
Ambassador Park Noh-wan: Viet Nam aims to attract over 5 million international guests this year. In fact, there were 4.8 million visitors from Korea alone in 2019. If two-way direct flights are resumed to major tourist cities like Da Nang, in my opinion, the preset goal is within reach.
Over the last two years, the tourism industry of Viet Nam has suffered as a result of COVID-19.
The Korean Government has been rendering support to Viet Nam in the efforts to overcome the COVID-19 crisis together, such as by providing vaccines - a total of 1.39 million doses. Korea has been providing 42.5 million syringes for vaccine injections and 0.3 million diagnosis kits.
Based on these shared efforts to overcome COVID-19, I very much hope that the tourism industry of Viet Nam will recover from the setbacks brought by the pandemic. It is my deep wish that the Vietnamese government does indeed achieve the set goal.
The Korean Government is also carrying forward various ODA projects in order to support the development of tourism in Viet Nam, including the Hue Culture and Tourism Smart City Development (2021-2025) project of a value of US$13 million.
The Korean government will continue its endeavors to support Viet Nam in this sector in the long term. Indeed, we will seek to foster an environment for more people to enjoy the amazing culture and natural heritages of Viet Nam which we too love so much.
Many Vietnamese tourists have expressed their joy at traveling abroad again after almost two years. What should be done to foster outbound tourism?
Ambassador Park Noh-wan: In the initial phase of restarting international tourism, the price for outbound tourism packages is expected to be higher than that before COVID-19, due to such factors as availability of flights.
Also, it is expected that people will be concerned about health and safety issues for a while.
Accordingly, I suggested that travel agencies and airlines should inform clients promptly of notices regarding these issues, including specific information on departure and entry procedures for each respective country.
Thank you!