12/12/2016 10:29
A quick glance at venues for APEC events
VGP - The following is the message of State President Tran Dai Quang as Viet Nam will host APEC in 2017.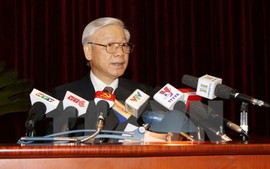 Politics
16/11/2016 17:00
VGP – Party General Secretary Nguyen Phu Trong on November 5 signed Resolution No. 06-NQ/TW on effective implementation of the international economic integration process and firm maintenance of socio-political stability as Viet Nam joins new-generation free trade agreements.
Viet Nam membership
31/01/2016 18:25
VGP - PM Nguyen Tan Dung on January 7, 2016 approved the Overall strategy for international integration through 2020, vision to 2030. The following is the translation of the strategy for reference.