Workshop held to advance collective efforts in dealing with plastic pollution
VGP - The Viet Nam Agency of Seas and Islands (VASI) and the United Nations Development Program (UNDP) organized a workshop on Regional Cooperation toward the Global Treaty on Plastic Pollution in Ha Noi on July 26.
July 29, 2023 4:09 PM GMT+7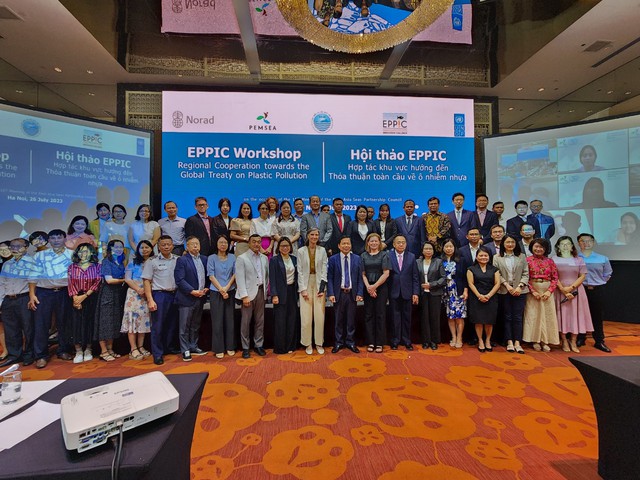 The workshop, attended by representatives from eleven countries belonging to the Partnerships in Environmental Management for the Seas of East Asia (PEMSEA) and other non-member countries, was held as a side event of the 15th East Asia Seas Partnership Council Meeting.
Addressing the event, Mr. Truong Duc Tri, Deputy Director General of VASI, said, as a very active and responsible member of PEMSEA, at the regional level, Viet Nam strongly supports participating in negotiations to build a Global Agreement on Plastic Pollution.
By joining hands to make the Agreement, Viet Nam and other countries will show a spirit of solidarity to work with the international community to solve the problems of plastic pollution, he stated.
"This workshop and the 15th East Asian Seas Partnership Council Meeting are an opportunity for us to review PEMSEA's operational programs, as well as discuss to make recommendations to make PEMSEA's cooperation activities more effective, and at the same time, exchange ideas to best prepare for the process of participating in the negotiation to build a Global Agreement on Plastic Pollution", he added.
UNDP Resident Representative in Viet Nam, Ramla Khalidi emphasized the pivotal role of collaboration in addressing the growing plastic pollution issue and invited all stakeholders-governmental bodies, mass organizations, non-governmental organizations (NGOs), civil society organizations (CSOs), development partners, and individuals-to join the workshop.
During the workshop, participants agreed on the importance of joint efforts in combating plastic pollution.
As a result, a joint paper was agreed upon, outlining a collaborative strategy to address plastic pollution and contribute to the formulation of the Global Treaty on Plastic Pollution.
This collaborative initiative reflects the spirit of regional cooperation and the shared determination to combat plastic pollution for the benefit of the East Asia Seas region and beyond./.