Circular economy - key to reduce pollution, promote sustainable development
VGP – Viet Nam has gradually transformed from a "linear economy" to a "circular economy" as an effort to handle risks stemming from depletion of natural resources, reduction of pollution and degradation of the living environment in the next decade, heading to the goal of sustainable development.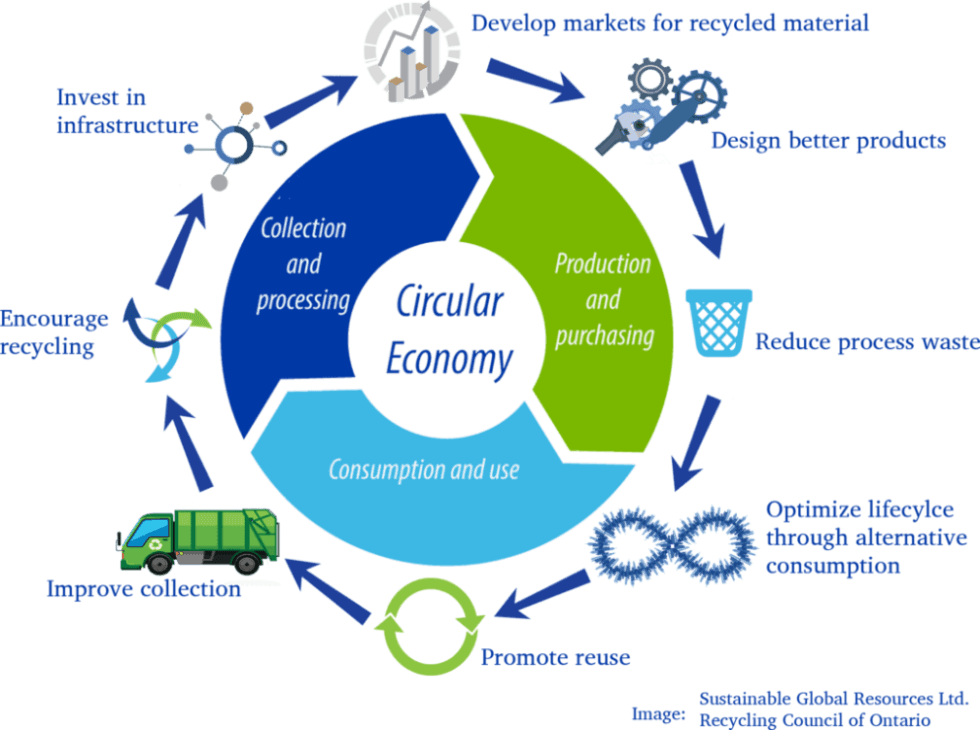 Viet Nam gradually transforms from a "linear economy" to a "circular economy", heading to the goal of sustainable development.
According to a recent World Bank survey, plastic items accounted for 94 percent of all solid waste collected at 38 riverbank and coastal sites around the country, the majority of which were single-use plastics.
The plastic consumption rate per capita in Viet Nam rose ten times between 1990 and 2019. On average, a Vietnamese person now consumes 41.3 kilograms of plastics in a year. This is equivalent to 7,600 plastic grocery bags.
Viet Nam's waste treatment infrastructure is struggling with the ever-growing demand for services. Waste collection covers just 92 percent of the urban population and only two-thirds of the rural population.
The total volume of waste each year in the country comes to about 25.5 million tons, of which 75 percent goes into landfills. Viet Nam is among the top four generators of plastic waste, at 280,000 tons per year, and over 70 percent is buried, a World Bank report cited.
A group of specialists from the Viet Nam Environment Administration estimated that municipal solid waste increases by 10–16 percent each year. Several landfill sites in major cities such as Ha Noi, Ho Chi Minh City and Da Nang are already overloaded, affecting local lives.
Waste also represents an economic loss and burden on society. Ha Noi and HCM City have to spend around VND1.2 – 1.5 trillion (US$52 – 65 million) a year, or 3.5 percent of their budgets, on collecting and treating waste.
According to the Pollution and Health Metrics report by the Global Alliance on Health and Pollution, an estimated 71,365 Vietnamese people lost their lives to pollution in 2017.
Of the total number of pollution-related deaths, air pollution killed 50,232 people in Viet Nam, water pollution claimed 3,097 lives, 9,809 died of occupational pollution and 8,227 people were killed by lead pollution.
Viet Nam also entered the list of 20 countries with the highest rate of pollution-related deaths in the Western Pacific region per 100,000 people, in 10th position with 75 deaths, according to the report.
Key tasks proposed to develop circular economy in Viet Nam
While a traditional linear economy allows manufacturers to take natural resources to make products and services, then production and consumption waste simply ends up in landfill or natural systems such as the ocean; a circular economy is a sustainable alternative to this model.
In a circular economy, manufacturers keep resources in use for as long as possible, extract the maximum value from them whilst in use, then recover and regenerate products and materials at the end of each service life.
Applying circular economy practices helps to minimize waste, drive greater resource productivity, address resource security/scarcity issues and supports a more competitive economy for Viet Nam.
Experts have stated that a circular economy will help reduce the risks from the scarcity of resources in the future, address environmental issues and add US$4.5 trillion to global GDP by 2030.
Recently, Prime Minister Pham Minh Chinh has issued a Decision approving a plan on preparation and participation of the global treaty on plastic pollution.
The plan aims to ensure sufficient conditions on human resources, information and data serving for making preparations and actively joining in the negotiations of the treaty as well as enhance national capacity for prevention and control of plastic pollution.
By Thuy Dung