VPBank issues 15% of its charter capital to Japan's SMBC
VGP - Viet Nam Prosperity Joint Stock Commercial Bank (VPBank) on Monday announced that it has reached an agreement with Japan's Sumitomo Mitsui Banking Corporation (SMBC) to issue 15 percent of equity stake through a private placement.
March 27, 2023 9:04 PM GMT+7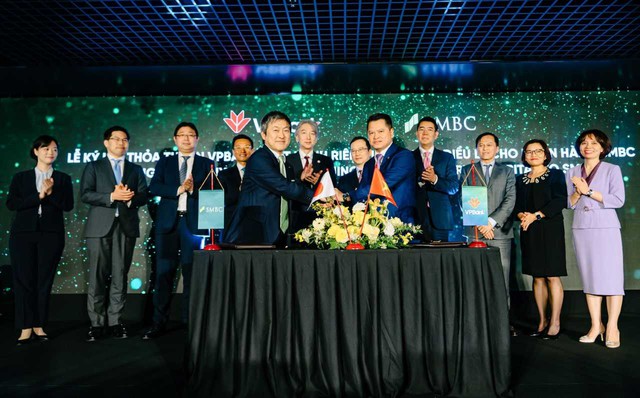 The investment from SMBC will help the bank raise VND35.9 trillion, or approximately USD1.5 billion, of Tier 1 capital, increasing its owner equity to approximately VND140 trillion from VND103.5 trillion.
This comes as part of the capital raising plan that VPBank has been implementing during 2022-2023 in order to enhance its long-term financial strength and support the bank to reach ambitious growth strategy over the next five years.
Following the latest SMBC's strategic investment, VPBank will become Viet Nam's second largest bank in terms of owner equity, which allows it to serve a wide range of customer needs in various segments, including retail banking, corporate banking and SMEs.
The robust capital stance will also back VPBank in serving large-scale enterprises, particularly the FDI and multi-national companies that have been or will be investing in Viet Nam.
The new investment also proves a strong and trusted collaboration between SMBC and VPBank, since the two party entered into a Business Partnership Agreement in May 2022. Previously, in 2021, SMBC Consumer Finance Co., Ltd–a subsidiary of SMFG–also acquired 49 percent of equity stake in FE Credit, a wholly-owned subsidiary of VPBank.
SMBC, through this investment, will contribute towards VPBank's growth by leveraging its know-how and business expertise accumulated in other Asian markets. SMBC is thus expected to help accelerate the digital transformation at VPBank, in order to deliver customer-centric banking products and services and superior customer experience.
Furthermore, thanks to the great reputation of a large financial institution like SMBC, the strategic deal is anticipated to attract and encourage potential FDI companies among the 200,000 corporate clients of SMBC to come and expand their investment in Viet Nam. These potential enterprises, once enter Viet Nam successfully, will also likely to become clients of VPBank.
For SMBC itself, through the rapport built with a local bank like VPBank, the group will be able to strengthen its foothold in the country and exploit opportunity to serve local investment projects, particularly those in the field of infrastructure construction and green and sustainable growth that the group has been paying attention to in recent years.
VPBank is now the leading commercial bank in Viet Nam in terms of efficiency and profitability, with strong presence in retail and SME segments. As of December 31, 2022, VPBank's total assets amounted to approximately US$27 billion, with a network of 251 branches national wide.
Meanwhile, SMBC is one of the largest commercial banks in Japan. With offices in 39 countries and regions including the Americas, Europe, Middle East, Africa, Asia and Oceania, SMBC has an extensive global network and growing international presence.