Vietnamese, Cambodian PMs vow to foster economic ties
VGP - Prime Minister Pham Minh Chinh and his Cambodian counterpart Samdech Techo Hun Sen pledged to foster connections between the two economies in terms of infrastructure, institutions, policies and services during their meeting in Tbong Khmum, Cambodia on June 20.
June 21, 2022 9:36 AM GMT+7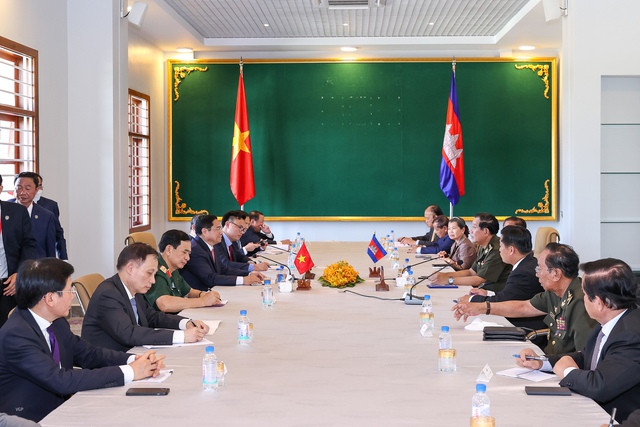 The meeting took place following the commemoration of the 45th anniversary of the historical journey by now Cambodian Prime Minister Samdech Techo Hun Sen to seek Vietnamese help to overthrow Pol Pot's genocidal regime (June 20, 1977- 2022).
The two PMs expressed their delight on the positive development in the bilateral relationship, remarkably mentioning the bilateral trade value over the first five months of 2022 that reached US$5.44 billion, a year-on-year increase of 19 percent.
Besides, as many as 46,000 Vietnamese visited Cambodia, making the former one of the largest tourist source market of Cambodia.
They vowed to enhance high-level delegation exchanges and organize activities to celebrate the Viet Nam-Cambodia and Cambodia–Viet Nam Friendship Year in 2022, including the organization of an event to mark the 55th anniversary of diplomatic ties in Ha Noi on June 24, 2022.
The two Government leaders agreed to speed up the completion of the Master Plan on Viet Nam–Cambodia Economic Connectivity 2030 and continue creating favorable conditions for their enterprises to boost investment and trade.
They were unanimous in early signing a border trade agreement, effectively exploiting their border gates to facilitate trade and people-to-people exchanges as well as increasing direct air routes between the two sides.
They assented to enhance talks for the demarcation and marker planting of the remainder of the un-demarcated land boundary, and negotiate the signing of an agreement on border management regulations, and an agreement on border gate and land border gate management regulations.
Both sides pledged to continue close coordination and mutual support at regional, international and sub-regional forums, especially in 2022 when Cambodia serves as the Chair of ASEAN.
The Vietnamese PM expected that the Cambodian Government will continue creating favorable conditions for people of Vietnamese origin in Cambodia to consolidate their legal status, stabilize their lives, integrate into society, and contribute to Cambodia's socio-economic development, as well as the relationship between the two countries.