Ouk chaktrang masters win first SEA Games gold for Viet Nam
VGP — The first gold medal of Viet Nam at the 32nd SEA Games went to competitors in chess ouk chaktrang event on May 2 in Phnom Penh, Cambodia.
May 03, 2023 6:04 PM GMT+7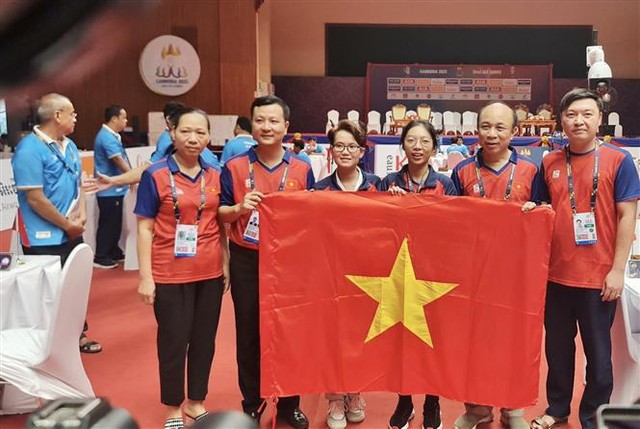 Vietnamese pair Pham Thanh Phuong Thao and Ton Nu Hong An scored their fifth win in the women's doubles after beating the Philippines team at the Royal University of Phnom Penh.

Thao drew Shania Mae Garcia Mendoa while An defeated Janelle Mae Bermas Frayna.
Earlier, the won four matches over Cambodia, Myanmar, Malaysia and Thailand.
Their high result has helped them to secure a gold medal although they still have one match to play against Laos on May 6.
"I am a little nervous because it is the first time this chess has been organised in the SEA Games and it is also my first time competing at a regional sport meet," said Thao who switched from international chess to ouk chaktrang for about eight months.
"In this tournament I face with rivals who have played ouk chaktrang for long time. But my experience in international chess, which is almost same with ouk chaktrang, helps me to overcome difficulties.
"I am very happy with the gold. I have found a new route for my sport life," she said.
Her teammate An, meanwhile, cried because of the happiness. She said the gold medal was for her late mother who strongly supported her to follow chess.
She also wanted to send her best wishes to all Vietnamese athletes who will begin their competitions in the next few days.
Coach Nguyen Minh Thang said it was a historic victory of Viet Nam who defeated strong rivals Thailand, the Philippines and the hosts on the way to take the gold. These teams played ouk chaktrang for thousands of years while his players just practised it for nearly one year.
Thao and An were awarded US$2,000 from Viet Nam Chess Federation President Pham Van Tien.
They will also receive a hot bonus of VND10 million ($426) from the Viet Nam SEA Games Team at the victory ceremony which will be held on May 6 and VND45 million ($1,900) as a regulation of the government for sport achievement when returning home.
Viet Nam will have opportunities to win more golds in the next few days when Vietnamese masters have advanced to the finals of the men's singles and team events.
Ouk chaktrang is the form of chess played in Cambodia. Its rules are similar to international chess with some differences in the rules, moves and the starting positions.
There are sevent events of ouk chaktrang at the 32nd Games. It is organised from April 29 to May 9. Viet Nam set a target of two golds of ouk chaktrang./.
Thanh Ha