Viet Nam, U.S. join hands in modernizing STEM education
VGP - Together with the Government of Viet Nam, and in partnership with U.S. higher education institutions and the private sector, USAID is driving institutional and systemic higher education reforms that prepare graduates to succeed in a competitive global market.
August 19, 2023 9:09 PM GMT+7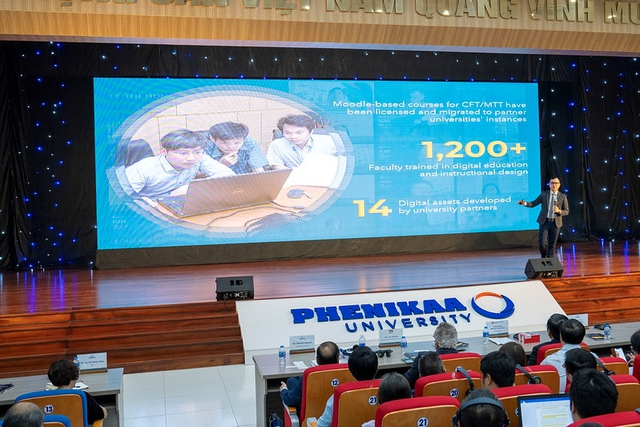 A ceremony was held in Ha Noi on August 18 to celebrate successful partnership between Viet Nam and USAID and Arizona State University to improve STEM education in Vietnamese higher education institutions over the last eight years.
Over 200 industry leaders, educators, policymakers, and entrepreneurs attended the event held during the 8th annual Science, Technology, Engineering, and Math conference (STEMCON).
Through USAID's BUILD-IT public-private alliance, the U.S. government is advancing a shared goal with Viet Nam to improve higher education and prepare students to be successful in today's global economy, said USAID/Viet Nam Mission Director Aler Grubbs.
"Together, we harnessed common aspirations and commitment across industry, government, and universities to modernize STEM education, driving economic growth in Viet Nam", she stated.
Started in 2015, the US$8.7 million BUILD-IT project leveraged government, private sector, and academic partners' vast capabilities to build strategic leadership skills, advance university autonomy, improve program and instructional quality, and sustain lasting partnerships with the private sector.
The project achieved lasting impact through partnering with eight higher education institutions in Viet Nam and leveraging resources from 20 industry partners for an additional US$8.7 million investment in higher education in Viet Nam.
Through these partnerships, 121 educational programs received regional and international accreditation, including, for the first time in Viet Nam, 12 program accreditations under ABET, the top international accreditation body for engineering and technology.
Over 2,000 courses redesigned to reflect the needs of the emerging digital workforce while 4,000 university leaders and staff improved their skills in the areas of leadership, strategy, curriculum, and partnerships with industry; and 4,600 students benefited from project-based curricula activities.
Besides, three Maker Innovation Spaces in Da Nang, Ho Chi Minh City, and Can Tho contributed to increasing students' innovation, supporting the university's capacity to incorporate applied projects into its curricula, and fostering strong industry engagement.
These spaces establish a sustainable mechanism to support university students in inventing, building, and launching solutions to technical problems./.