Viet Nam, UK foster cooperation in climate change response, biodiversity conservation
VGP - Deputy Prime Minister Tran Hong Ha on Wednesday hosted a reception for UK Secretary of State for Environment, Food and Rural Affairs Thérèse Coffey who is on a two-day working visit to Viet Nam.
April 13, 2023 7:58 PM GMT+7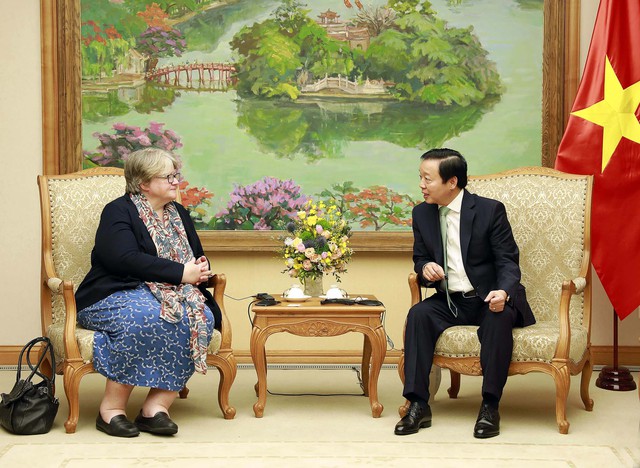 Tran expressed thanks to the UK Government, together with the G7 countries and other partners, to establish the Just Energy Transition Partnership (JETP) to help Viet Nam realize commitments made at the COP26.
The two nations have worked closely to address global issues such as reduction of greenhouse gas emissions, climate change, biodiversity conservation, forest conservation, smart cities development, protection of sustainable landscapes and e-commerce platform development, highlighted the Deputy Prime Minister.
He called on the UK to assist Viet Nam in carrying out comprehensive assessment of energy transition impacts and realizing its net-zero emission commitment by 20250.
Tran also called on both sides to join hands in seeking for measures to boost economic growth in line with ecosystem conservation and development and to achieve sustainable development goals.
Regarding energy transition issue, Tran suggested the UK support Viet Nam in developing renewable energy projects, particularly offshore wind power to replace coal-fired power.
He asked the UK to promote transfer of advanced technology for Viet Nam to enhance sustainable agriculture development and open the market for the Southeast Asian nation's agro-aquatic products.
For her part, Thérèse Coffey pledged to cooperate with and support Viet Nam in achieving its net-zero emission targets by 2050, reducing biodiversity loss as well as mitigating the impacts of climate change at local and transboundary scales.
The same day, Thérèse Coffey and Viet Nam's Minister of Agriculture and Rural Development Le Minh Hoan signed a Memorandum of Understanding (MoU) to formalize cooperation on the UK's Biodiverse Landscapes Fund (BLF) in Viet Nam.
The BLF will focus on encouraging sustainable livelihoods and agriculture models; reducing poverty; promoting ecotourism; and tackling the illegal wildlife trade.