Official Logo to mark 50th anniversary of UK–Viet Nam diplomatic relations announced
VGP - Official Logo launching ceremony to mark the 50th anniversary of UK–Viet Nam diplomatic relations took place in Ha Noi on December 14.
December 14, 2022 8:01 PM GMT+7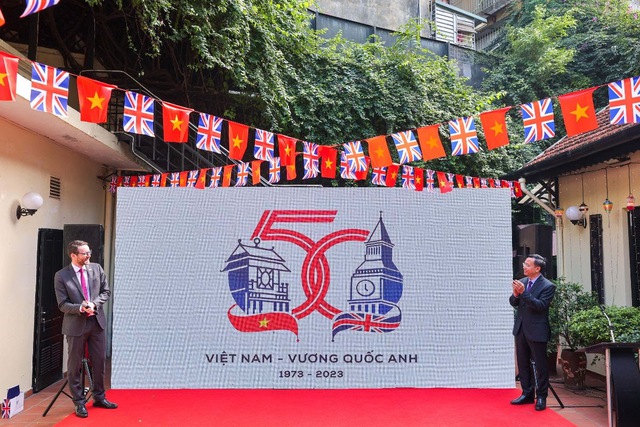 Addressing the event, British Ambassador to Viet Nam Iain Frew expressed his delight to be coming to Viet Nam at such an exciting and blossoming time when both countries are set to celebrate five decades of diplomatic relations, the UK-Viet Nam Free Trade Agreement (UKVFTA) has taken effect, and the UK has become ASEAN's dialogue partner.

The UK and Viet Nam have already shown that both nations can work together to tackle some of the world's biggest challenges as they supported each other throughout the COVID-19 pandemic.

Next year will be a chance for Viet Nam and the UK to celebrate and showcase the strength of relationship, all the while tapping into all those opportunities to further deepen cooperation across all the areas of strategic partnership, noted Iain Frew.
The two countries continue to work on global issues together such as climate change, following Prime Minister Chinh's visit to Glasgow last year for COP26 where he made the historic net zero commitment. Both sides have also been working on the Just Energy Transition Partnership.
Viet Nam and the UK are trading with each other more than ever with total trade in goods and services between the two nations now at GBP 5.9 billion, up 12.4 percent over the same period of last year thanks to the UKVFTA.
Around 15,000 Vietnamese students are currently studying in the UK with many more students applying to study in the UK. Both nations have ever growing people to people links across a range of sectors.
And with the recent visit of Armed Forces Minister to attend the Viet Nam Defense Expo, as well as existing cooperation with Viet Nam in UN peacekeeping, the UK is committed to being a reliable, trustworthy and long-term partner with Viet Nam.
UK and Viet Nam: Building for the future
Regarding activities on celebration of the 50th anniversary of UK–Viet Nam diplomatic relations next year, Iain Frew said that the two nations will do this through a focus on education, trade and sustainability–all of which are key to collective future together.
The UK will host UK Festivals in Ha Noi, Da Nang and Ho Chi Minh City with cultural performances, exhibitions and showcases that show the best that the UK has to offer.
High-level visits of UK leaders to Viet Nam and Vietnamese leaders to the UK as well as trade shows and trade missions to Viet Nam, to invest for the future will be held.
The UK hopes to launch plans to redevelop our Consulate General in Ho Chi Minh City into a building fit for a modern financial center.
The first ever UK-Viet Nam People to People Dialogue will take place that will see businesses, academics, educational organizations and others build and foster links between the UK and Viet Nam outside of the traditional Government to Government framework.
"To conclude, the UK and Viet Nam are closer than ever, and I am excited for the next chapter. Together, we can build for the future", emphasized the Ambassador./.