Viet Nam, Trinidad and Tobago establish diplomatic relations
VGP - Viet Nam and Trinidad and Tobago officially set up their diplomatic relations on February 1.
February 02, 2023 9:10 AM GMT+7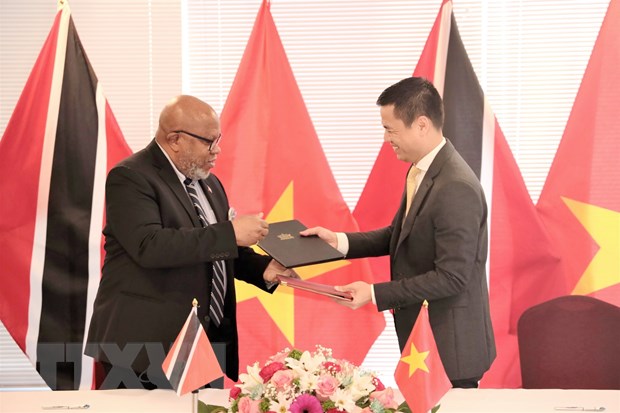 A Joint Communiqué on the establishment of the diplomatic relations was signed in New York on February 1 by Vietnamese Ambassador, Head of the Permanent Delegation of Viet Nam to the United Nations (UN) Dang Hoang Giang, and Ambassador, Permanent Representative of Trinidad and Tobago to the UN Dennis Francis.
Accordingly, the two countries have agreed to set up diplomatic representation at the ambassadorial level under the 1961 Vienna Convention on Diplomatic Relations.
The same day, the Joint Communiqué was sent to UN Secretary-General Antonio Guterres for circulation and announcement to UN member states.
During their meeting on the day, the two diplomats expressed their delight on the official establishment of diplomatic ties between the two nations, asserting that it will pave the way for boosting the multi-faceted relations between the two sides.
They pledged to continue sharing information to explore the advantages and potentials of each side, particularly in oil and gas exploration, tourism and agriculture.
Both sides vowed to foster close coordination at the UN and other multi-lateral forums.
So far, Viet Nam has set up diplomatic ties with all 35 nations in America and 192 countries all over the world (including 190 out of 193 members of the UN), thus manifesting the country's consistent pursuance of its foreign policy of diversifying and multilateralizing international relations and attaching importance to developing the relations with Latin America and the Caribbean.