Viet Nam bags golds and record in SEA Games' day 2
VGP — Vietnamese athletes won nine gold medals and set one new record in the second day of the 32nd SEA Games in Phnom Penh, Cambodia.
May 08, 2023 10:24 AM GMT+7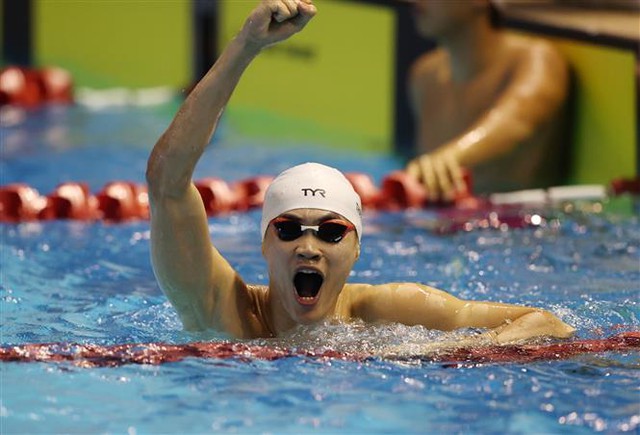 The highlights were golds in swimming and basketball.

Swimmer Pham Thanh Bao became the first Vietnamese athlete setting a new Games record this year after he won in the men's 100m breaststroke event.
The defending champion finished first in a time of 1min 0.97sec which was the new height in the regional sport meet.
His result was better than the old record of 1:01.17 which he made up a year ago at the 31st Games in Ha Noi.
The champion said he wanted to give his medal to his grandmother who died when he was practicing abroad.
"I just try hard to deliver my best performance. This medal is for my grand mom. I could not come back home when she passed away. I will try harder in the next events," Bao said.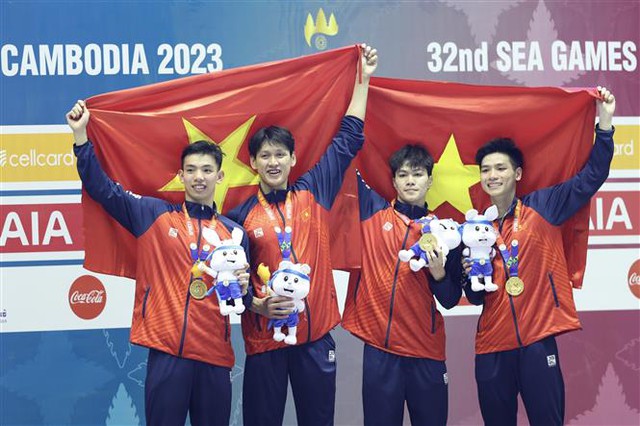 After Bao, his teammates won gold in the men's 4x200m freestyle relay.
Despite defending champion Viet Nam was place in unfavourable lane 7. They also started slowly and were left behind after two strokes.
Then, they came from behind to narrow the gap before finishing first in a time of 7min 18.51sec.
Singapore and Malaysia came second and third, respectively.
"No word can express my happiness. I am happy with the gold although we do not set a new record," said swimmer Hoang Quy Phuoc.
"It is emotional as this might be my last SEA Games. It is time to rest and give the chance to shine for my younger teammates," said the 30-year-old who has swum for 20 years.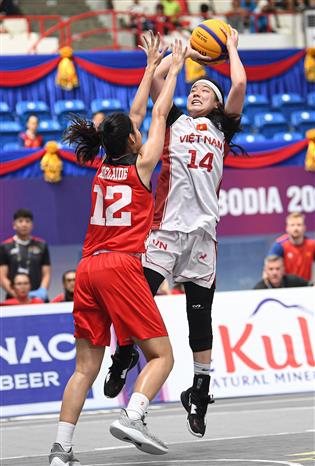 Earlier, in the morning, the women's 3x3 basketball team made an earth quake when they won the gold medal for Viet Nam for the first time.
The 3x3 basketball was first organised in the 30th Games in the Philippines in 2019. Viet Nam secured silver in the 31st Games in 2022.
This year they played outstandingly in all five matches. They won all three matches in the group round. They defeated Indonesia in the semi-finals before trouncing the Philippines in the final match.
All four members cried hard after they earned the last point to wrap up a historic 21-16 win.
"We have to overcome challenges in this tournament. Prior to the final, we faced with injuries and fitness problem because of hot weather," said captain Huynh Thi Ngoan.
"We did not give up but tried harder. And it is the best result that we can contribute to Viet Nam's basketball."
Viet Nam's Chief-de-mission Dang Ha Viet witnessed the match. He was moved with the national first SEA Games basketball gold.
"When the final whistle was blown I cried because of happiness. Congratulate the team," said Ha who was former basketball player.
"The gold is resulted from great effort of the whole team, players and coaches. We won over regional teams whose level has been lifted with the presence of naturalised players," he said.
Vietnamese athletes also won seven titles in other sports.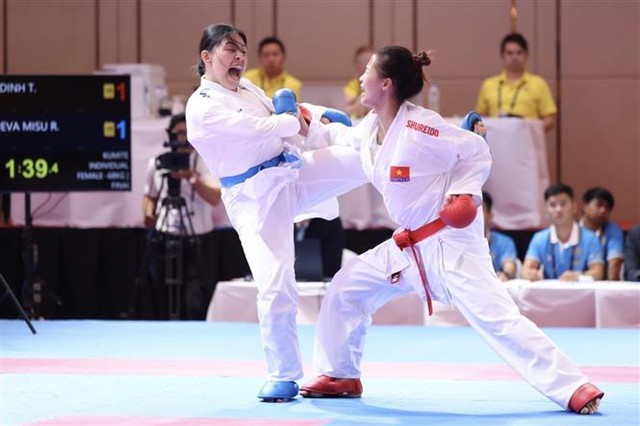 The karate fighters took two golds in the women's 55kg by Hoang Thi My Tam and women's 68kg by Dinh Thi Huong.
Vovinam martial artists Do Phuong Thao and Nguyen Thanh Liem triumphed in the women's and men's 60kg.
Jujutsu fighter Dao Hong Son defended his top place in the men's 56kg class.
In athletics, Pham Tien San dominated the men's individual duathlon.
The team also secured six silvers and five bronzes.
After two days, Viet Nam stayed at fourth position with 15 golds, 19 silvers and 27 bronzes.
Cambodia was on top with 29 golds. Thailand and Indonesia, having same 16 golds, were second and third, respectively./.