Viet Nam, Russia strengthen cooperation on natural disaster response
VGP - Minister of National Defence Gen. Phan Van Giang hosted a reception for Russian Minister of Emergency Situations Sen. Lt. Gen. Kurenkov Aleksandr Vyacheslavovich in Ha Noi on November 9.
November 10, 2023 5:13 PM GMT+7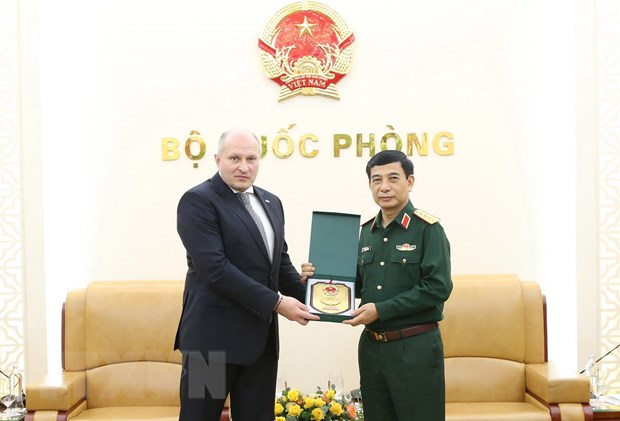 General Phan Van Giang emphasized that the traditional friendship and Comprehensive Strategic Partnership between Viet Nam and the Russian Federation continue to develop well.
Leaders of the two countries's defense ministries have regularly maintained working contact, most recently at the 11th Moscow Conference on International Security in August 2023.
Additionally, the two sides have effectively maintained such cooperation mechanisms as the Intergovernmental Coordinating Committee for the Viet Nam - Russia Tropical Center and the defence strategy dialogue at the deputy ministerial level.
They have also obtained recognizable cooperation results in workforce training, military medicine, military history, and cooperation between their military services and arms.
Gen. Phan Van Giang highly valued the role of the Ministry of Emergency Situations in the development of Russia. Also, he applauded the cooperation activities between the Russian Ministry and the Vietnamese National Committee for Search and Rescue.
The Vietnamese minister called on his guest to continue to direct relevant agencies of the Russian ministry to enhance ties with the Vietnamese Ministry of National Defense's Department of Research and Rescue - the Office of the National Committee for Incident and Natural Disaster Response, Search and Rescue, with a focus on delegation exchanges, workforce training, and sharing of specialized knowledge.
For his part, Sen. Lt. Gen. Kurenkov Aleksandr Vyacheslavovich briefed about his ministry's functions and tasks, saying that international cooperation is one of the most essential fields his ministry works on.
The Russian Ministry of Emergency Situations is ready to share specialized knowledge with and wishes to learn about Viet Nam's experience in the incident and natural disaster response, further intensifying the two countries' traditional friendship./.