Viet Nam plays crucial bridging role between ASEAN and UN
VGP - Viet Nam has played a crucial bridging role between ASEAN and UN through as it was ASEAN Chair in 2020 and non-permanent member of the UN Security Council (UNSC) for the 2020-2021 period.
September 12, 2022 9:07 PM GMT+7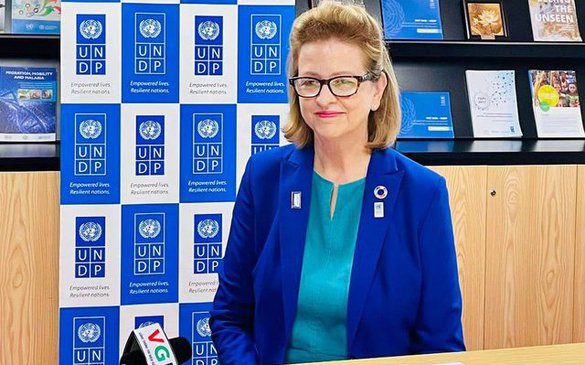 In a recent interview with the VGP, former UNDP Resident Representative in Viet Nam Caitlin Wiesen emphasized that Viet Nam has played a proactive role as non-permanent member of the UNSC for the 2020-2021 tenure with concrete actions to solve conflicts and highest commitment to multilateralism.
During its two-year tenure as non-permanent member of the UNSC, the country made contribution to removing legacies of war and strengthened humanitarian assistance and the protection of civilians in armed conflicts with concrete and tangible actions.
The nation drew the attention of the UNSC and the international community to the long-term consequences of wars and conflicts on the lives of ordinary people and the security and development of all nations, including the issue of explosive remnants of war.
In response to non-traditional challenges such as climate change and COVID-19, Viet Nam fully embraced a multilateral approach, safeguarding and upholding international law and the UN Charter.
The former UNDP Resident Representative commended Viet Nam on its aspiration for the position of member of the UN Human Rights Council (UNHRC) in the term 2023-2025.
She also spoke highly of a resolution regarding climate change and human rights, initiated and compiled by Viet Nam together with Bangladesh and the Philippines, which was adopted by the UNHRC in recent July.
Regarding peacekeeping activities, Caitlin Wiesen said it is worth a mention that Viet Nam has expressed its willingness to continue to contribute further to UN peacekeeping missions, not only within the UN but also all other peacekeeping endeavors.
"Over the course of the past years, Viet Nam has set a strong example of women's participation in peace operations, and we expect it will continue to do so with the support of UNDP", she stressed.
Climate change response, social security support-highlights in Viet Nam, UNDP cooperation
Referring to UNDP's cooperative programs with Viet Nam during her term of office in the country, Caitlin Wiesen said that UNDP Viet Nam, in collaboration with the Government of Viet Nam, has successfully implemented Country Program 2017-2021 and developed the Country Program 2022-2026, which set the strategic directions for development cooperation between UNDP and Government agencies.
UNDP has supported Viet Nam in mobilizing fund for green and inclusive development, notably US$62 million from Global Climate Fund (GCF) for building community resilience and supporting the development and implementation of the National Adaptation Plan; and US$45 million for mine action and post-mine action livelihood support in Viet Nam.
Since the early days of the COVID-19 pandemic, UNDP has provided support for Viet Nam's response in three areas including health system strengthening, social protection, and digital transformation.
Besides, UNDP has contributed to the development of the National Action Plan for Agenda 2030 on SDGs implementation; the preparation of Viet Nam's VNR Report for 2018 High-level Political Forum (HLPF); preparation of the five-year review of the SDGs progress; and Leaving No One Behind (LNOB) Data Repository on SDG progress among ethnic minorities in Viet Nam.
UNDP flagship research, Viet Nam Provincial Governance and Public Administration Performance Index (PAPI), continues to provide an important transparent and accessible database that supports evidence driven approaches to programming and policy-making.
Support for the Universal Periodic Review (UPR) third cycle and shadow reporting, focus on particular vulnerable groups has accelerated, for instance on people with disabilities and strengthening the capacity of the Organizations of Persons with Disabilities (OPDs), as well as support for the LGBT community.
UNDP and the Government of Viet Nam successfully co-organized a number of important international conferences, notably the recent international conference on Green and Inclusive Economic Rebound and the international conference on Sustainable Ocean Economy and Climate Change Adaptation.
Viet Nam can lead way in green, equitable, inclusive economic rebound
According to Caitlin Wiesen, it has been her greatest honor and privilege to serve as the UNDP Resident Representative in Viet Nam.
During her tenure in the country, she has been so impressed by the Vietnamese Government's commitment to people-centered development and leaving no one left behind.
She was fascinated by the way the Government monitored in all spheres of COVID-19 containment, vaccination and economic rebound as well as the resilience, resourcefulness, creativity and enthusiasm of the Vietnamese people.
The former UNDP Resident Representative was very moved to see the rice ATM, the "zero Dong" market and pink dragon fruit baguette during the outbreaks of COVID-19.
She has no doubt that with adjustments to governance and finance regulations, Viet Nam and its people can lead the way in a green, equitable, inclusive economic rebound in much the same way that the nation demonstrated to the world how growth and radical poverty reduction can be accomplished simultaneously.
"My husband and I have worked in some African and Asian nations. There is no country where we have felt more welcomed and at home as we do here in Viet Nam. I know a part of my heart will stay here but I also know a part of Viet Nam will always be in my heart wherever I go", she said.