UN Secretary-General lauds Viet Nam's contributions to UN
VGP - United Nations (UN) Secretary-General António Guterres spoke highly of Viet Nam's responsible and active contributions to the common work of the UN during his working session with Deputy Foreign Minister Ha Kim Ngoc at the UN Headquarters in New York, the U.S.
August 04, 2022 7:11 PM GMT+7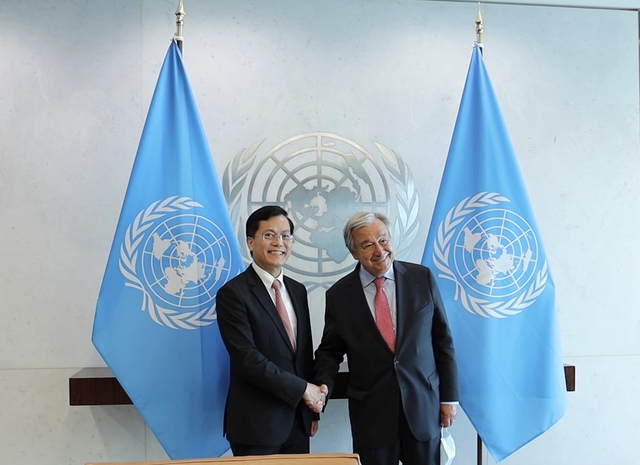 The meeting took place on August 3 on the occasion of the Vietnamese diplomat's attendance at the 10th Review Conference of the nuclear Non-Proliferation Treaty (NPT) in New York, the U.S.
António Guterres highly valued Viet Nam's strong commitments in the fight against climate change and committed to continuing support for the country in this area.
He expressed his delight on Viet Nam's socio-economic achievements, especially its post-COVID-19 recovery efforts.
The UN Secretary-General affirmed he would arrange a visit to Viet Nam in an appropriate time this year.
For his part, Ha lauded on the fruitful developments in Viet Nam-UN relations over the last 45 years, adding that the UN is a trustworthy partner for peace, cooperation and development and has coordinated with Viet Nam throughout development periods.
Both sides pledged to consolidate multilateralism, uphold international law and strengthen ASEAN-UN cooperation.
They stressed the need to promote the role of ASEAN in the regional security structure, including the maintenance of peace, stability, security, safety and freedom of aviation and navigation in the East Sea and peaceful settlement of disputes on the basis of international law, including the 1982 UN Convention on the Law of the Sea (UNCLOS 1982).