Viet Nam offshore wind power sparks influx of foreign investment: Nikkei Asia
VGP - Japanese and European corporations are making major moves into the offshore wind power in Viet Nam, taking advantage of the developing country's renewable power push, highlighted Nikkei Asia.
January 16, 2023 1:01 AM GMT+7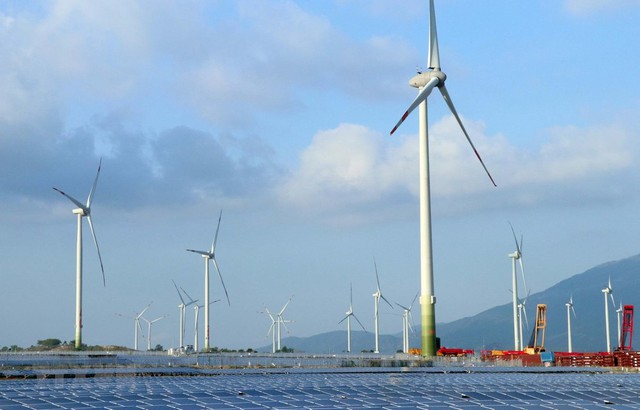 The article published by Nikkei Asia emphasized that strong winds off the southern coast of Viet Nam make it one of the best places in the region to explore offshore wind power.
The country's commitment to fully decarbonize by midcentury, coupled with an urgent power generation deficit, make this an attractive time to invest in its renewable energy infrastructure.
According to a map published by the World Bank Group and others, there are areas off the southern coast of Viet Nam where winds can exceed 10 meters per second.
Offshore wind power is generally considered viable for development at a speed of about eight meters per second.
In Southeast Asia, winds have this strong blow in Viet Nam. In addition, with a population of approximately 100 million, Viet Nam is experiencing rapid economic growth and an increasing concentration of foreign manufacturers.
At the COP26 United Nations climate summit in Glasgow in 2021, Prime Minister Pham Minh Chinh announced plans to achieve net zero emissions by 2050.
In the medium to long term, it will be necessary to secure energy sources to replace coal, which accounts for about 50 percent of all power generation in the country.
Meanwhile, offshore wind is expected to play a major part in the government's power generation plans. Wind power accounts for about 5 percent of the country's energy on a power generation capacity basis, but the government plans to raise this to about 30 percent by 2050, the article noted.
The Nikkei Asia said that last September, Japan's Sumitomo Corp. announced the development of an offshore wind power generation project. In December, it surveyed to study routes for laying cables.
The company plans to begin operations of a wind farm with a capacity of 500 megawatts to 1 gigawatt by 2030.
Another Japanese corporation, Renova, which specializes in renewable energy, has established a development base in Viet Nam.
In April, it signed a memorandum of understanding for offshore wind power development with Petro Viet Nam Group with plans to develop a 2 GW power plant in the future.
Denmark's Orsted, the world's largest offshore wind power company, began looking into a project in Viet Nam in 2020, signing a memorandum of understanding the next year with Vietnamese conglomerate T&T Group to develop a power plant.
According to the Ministry of Industry and Trade of Viet Nam, electricity demand in the country is expected to increase by 9.1 percent per year from 2020-2030, and demand for electricity is expected to be strong.
In order to increase the supply of electricity and combat climate change at the same time, the government has set a target of using renewable energy sources for about 15-20 percent of the 125-130 GW of power generation capacity in its power development plan for 2030 of which 6000 MW will be supplied by wind power projects./.