Viet Nam joins Multilateral Convention to tackle tax evasion and avoidance
VGP - Viet Nam and the Organization for Economic Co-operation and Development (OECD) signed the Multilateral Convention on Mutual Administrative Assistance in Tax Matters (MAAC) in Paris on March 22.
March 23, 2023 12:04 PM GMT+7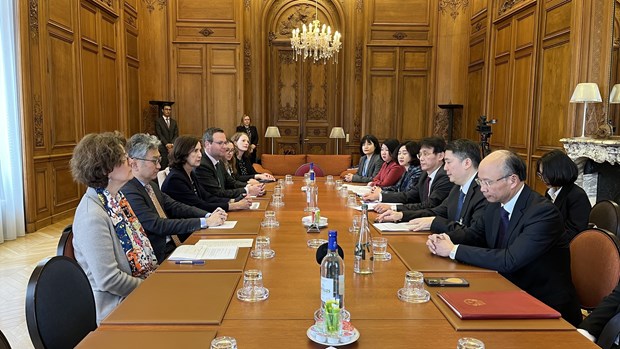 The MAAC, the world's widest-reaching international treaty for multilateral tax co-operation, was inked by Deputy Minister of Finance Cao Anh Tuan and OECD Deputy Secretary-General Yoshiki Takeuchi.
By signing the Convention, Viet Nam joins international efforts towards greater tax co-operation and exchange of information and further strengthens the reach of the Convention in Asia.
The accession to the Convention will pave the way for Viet Nam to engage in the exchange of information with 146 other jurisdictions, including all major financial centers. These exchange relationships will be added to over 8,000 exchange relationships already in place under the Convention.
The Convention enables jurisdictions to engage in a wide range of mutual assistance in tax matters including exchange of information on request, spontaneous exchange, automatic exchange, tax examinations abroad, simultaneous tax examinations and assistance in tax collection. It guarantees extensive safeguards for the protection of taxpayers' rights.
The Convention is the primary instrument for swift implementation of the Standard for Automatic Exchange of Financial Account Information in Tax Matters (CRS). The CRS–developed by the OECD and G20 countries–enables more than 110 jurisdictions to automatically exchange offshore financial account information.
Beyond the exchange of information on request and the automatic exchange pursuant to the standard, the Convention is also a powerful tool in the fight against illicit financial flows and is a key instrument for the implementation of the transparency standards within the work of the OECD/G20 Inclusive Framework on Base Erosion and Profit Shifting (BEPS).
So far, as many as 147 jurisdictions has participated in the Convention
Speaking at the event, Yoshiki Takeuchi welcomed Viet Nam's signing of the MAAC, adding that it has manifested the country's determinations to preventing tax evasion abroad, moving towards tax transparency and dealing with illicit financial flows.
He spoke highly of Viet Nam's efforts in realizing the BEPS minimum standards, expecting that the Southeast Asian nation will soon join the agreement.
OECD, an international organization with 38 member countries, aims to shape policies that foster prosperity, equality, opportunity and well-being for all./.