Viet Nam to promulgate policy to implement global minimum corporate tax
VGP – The Government is consulting experience from other countries and strives to promulgate policy to implement global minimum corporate tax this year, said Prime Minister Pham Minh Chinh.
March 20, 2023 4:36 PM GMT+7
Prime Minister Pham made the above statement at the Viet Nam Business Forum 2023 (VBF 2023) in Ha Noi on March 19.

The move aims to facilitate the operations of foreign-funded enterprises in Viet Nam and their contributions to the country's development.
The global minimum corporate income tax, initiated by the Organization for Economic Cooperation and Development (OECD), means enterprises with annual revenues of 750 million euros or more are eligible for a tax rate of 15 per cent.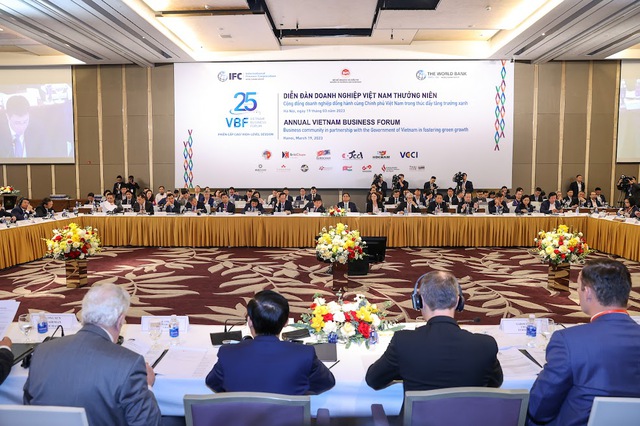 In August last year, the Prime Minister established a special working group responsible for carefully studying and putting forward solutions to implement the global minimum corporate tax.
The working group includes members who are investment experts, economists, financial experts, tax experts, and Big 4 counting firms.
In January this year, the Ministry of Finance set up a team to assist the special working group. The team is led by a Deputy Minister of Finance and has members from the Ministry of Finance, Ministry of Planning and Investment, Ministry of Justice, Ministry of Science and Tehnology, Ministry of Foreign Affairs, Ministry of Industry and Trade, Government Office, Viet Nam Chamber of Commerce and Industry, Viet Nam Association of Foreign Investment Enterprises (VAFIE), VBF, and several business giants such as EY, Deloitte and Samsung Electronics Viet Nam.
The Government reduces corporate income tax to 20 percent from 22 percent from January 1, 2016, according to its Decree No. 218/2013/ND-CP.
Viet Nam's corporate income tax rate is lower compared to 21.16 percent in EU27 countries, 23.57 percent in OECD countries, and 32 percent in the G7./.