Viet Nam, Italy hold 4th Defence Policy Dialogue
VGP - Deputy Minister of National Defence Sen. Lieut. Gen. Hoang Xuan Chien and Matteo Perego di Cremnago, Italian Undersecretary of State for Defence, co-chaired the fourth Viet Nam - Italy Defence Policy Dialogue on July 3.
July 04, 2023 5:19 PM GMT+7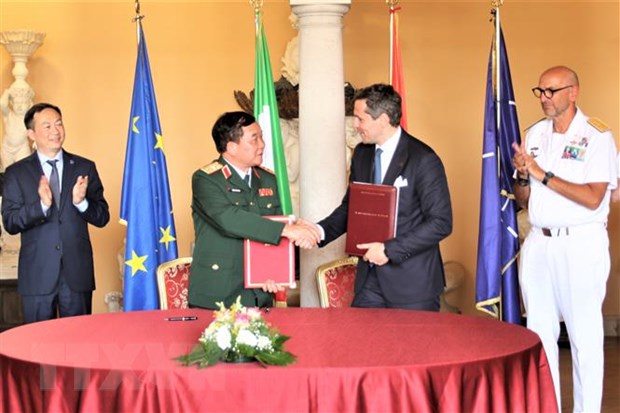 During the Dialogue, the two defense officials evaluated the implementation of cooperation areas within the Memorandum of Understanding (MoU) framework on defense ties in 2013 and the collaboration results since the third Defense Policy Dialogue held in Ha Noi in 2019.
The two sides stated that there was ample room ahead to build stronger defense links.
They agreed on strengthening cooperation in various fields of their need and strengths, with a significant focus on delegation exchange at all levels, training and capacity building for staff - officers, defense industry cooperation, and technology transfer of production of dual-use products, to name but a few.
For his part, the Italian Undersecretary of State for Defense underlined the Italian side's readiness to support the Viet Nam People's Army in improving their capacity while stepping up practical and effective bilateral defense ties through the Defense Policy Dialogue at a deputy defense ministerial level.
The two sides shared their views on international and regional issues of common concerns.
They emphasized the importance of maintaining peace, stability, and maritime security, and voiced their support for the peaceful settlement of disputes by international law, particularly the 1982 UN Convention on the Law of the Sea (UNCLOS).
Earlier, Gen. Hoang Xuan Chien and his delegation paid a courtesy call on the Italian Defense Minister Guido Crosetto.
Also on June 3, the Vietnamese delegation held meetings with Admiral Luciano Portolano, Secretary General of Defense and National Director of Armaments, and representatives of the Italian Association of Aerospace and Defense Industries to discuss measures to promote defense collaboration.
This year, Viet Nam and Italy celebrate the 50th anniversary of their bilateral diplomatic relations (1973 - 2023) and ten years of strategic partnership (2013 - 2023).
Over the past five decades, friendship and cooperation between the two countries have always been promoted in many fields, such as politics, diplomacy, economy, trade, investment, defence, security, culture, tourism and people-to-people exchange./.