Viet Nam honored as Asia's Best Culinary Destination 2022
VGP - The third World Culinary Awards has named Viet Nam as Asia's Best Culinary Destination in 2022.
December 22, 2022 6:40 PM GMT+7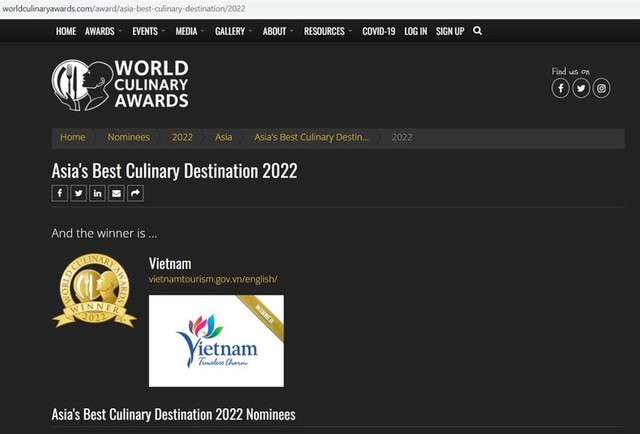 The Southeast Asian nation has surpassed many other Asian peers such as China, Malaysia, Singapore, the Republic of Korea, and Thailand, to earn the accreditation.
Possessing a rich culinary history, unique cultural heritage, distinctive and unique flavors and distinct processing methods, Vietnamese dishes are a harmonious, perfect and pure combination.

Vietnamese cuisine has reached out to the world, constantly attracting food-loving tourists to come and enjoy.
Vietnamese cuisine has been highly valued in prestigious competitions and by ranking organizations in the world. The country was ranked 5th among the top 10 countries globally with the best food by readers of the Canadian magazine The Travel last October.
On December 1, Michelin, for the first time, named Ha Noi and Ho Chi Minh City as the latest destinations joining the international selection of the MICHELIN Guide. MICHELIN inspectors will present their list of restaurants selected in June 2023./.