Viet Nam beat Cambodia 4-0, earn berth in final
VGP — Viet Nam advanced to their 10th women's football final after beating host Cambodia 4-0 in the semi-finals of the 32nd SEA Games on May 12 in Phnom Penh.
May 13, 2023 6:38 PM GMT+7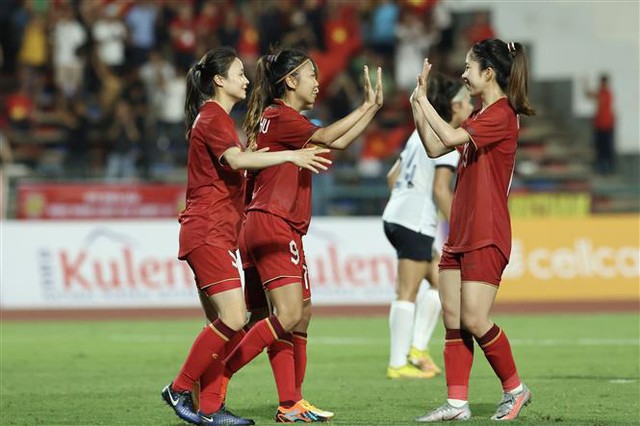 The team, seeking to win a fourth consecutive gold medal, opened the scoring in the 20th minute through midfielder Ngan Thi Van Su.

Bound for their first FIFA Women's World Cup in July, Viet Nam doubled their lead through Pham Hai Yen 10 minutes later.
Tran Thi Thuy Trang's 36th minute goal from the penalty spot left Cambodia with a mountain to climb and their hopes were completely dashed after Huynh Nhu scored Viet Nam's fourth with another spot-kick in second half added time.
In the other semis, Myanmar came from 2-0 down to defeat Thailand 4-2 to see Viet Nam again in the gold-medal match.
Thailand, having had to settle for the silver medal in the past three editions, looked to be on course for the final after Saowalak Peng-ngam (10th) and Orapin Waenngoen (28th) gave them a commanding looking lead.
But it was Myanmar's show since then.
They scored four goals by Yu Per Khine in the 43rd minute, Win Theingi Tun three minutes into the second half, Phyu Phyu Win in the 52nd mark and Myat Noe Khin in added time.
Speaking in the post-match conference, coach Mai Duc Chung of Viet Nam said he was glad that Viet Nam qualified for the final.
"Cambodia has developed remarkably and we respect them. They made us work pretty hard and sweat to win," said Chung.
"In this match, players met demands of the coaching board. We win and players are saved from injuries and bookings."
On the other side, coach Gao Fulin said his players did everything they could in the semis. A 4-0 defeat gave them lessons.
The Chinese expert said he did not expect such a big loss but prepare for a draw. However, there was a large gap between two teams. Vietnamese players were more technical and experienced while Cambodians were still young.
"We know that Viet Nam are very strong. We are in different quality level. Hope that in the future, Cambodia will play better against Viet Nam," said Gao.
"We will try to play better in the bronze-medal match, defeating Thailand to have a win as a gift for local supporters. We have been much better than in the past. That is the reason why we can advance to the semi-finals."
Cambodia lost 3-0 to Thailand in their group round match on May 9.
The final will be played on May 15 with the bronze medal playoff will be held hours earlier.
The final will be the second meet of Viet Nam and Myanmar. In the group round match, Viet Nam won 3-1 on May 6.
"The rematch will be more difficult. The luckier team will be the winner," said Chung.
"Football is also a battle. We have to bring into play our strong points while attacking into rivals' weak points. We have well understood each other so I asked players to stay focused. They should forget the semi-final win but pay attention to practice for the final.
"We have to do best every match to secure the final victory," he said.
Forward Nhu was also happy with the final slot. She said after months playing in Portugal she was improved. The new knowledge helped her to play better and contribute more the national team.
She said Viet Nam team would try best to bring win home, serving supporters' demand./.