Viet Nam attends online ASEAN Ministerial Meetings on Social Welfare and Development
VGP - ASEAN countries emphasized national priorities on strengthening gender mainstreaming, promoting gender equality and social security, and protecting the rights of vulnerable groups, at the 11th ASEAN Ministerial Meeting of Social Welfare and Development (11th AMMSWD).
May 26, 2023 10:40 PM GMT+7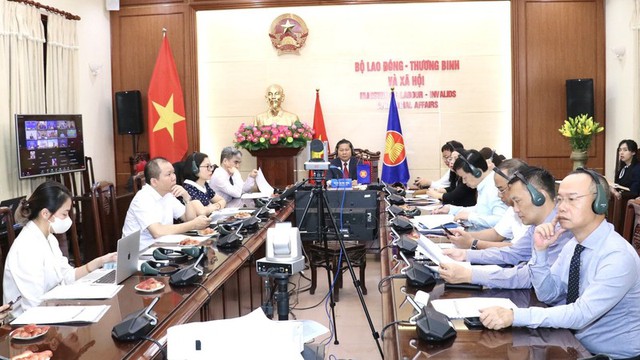 On May 25, AMMSWD-11 took place online under the chairmanship of Malaysia. Deputy Minister of Labor, Invalids and Social Affairs Le Tan Dung led the Vietnamese delegation to the event.
The meeting was attended by the Ministers/Heads of Delegations in charge of social welfare and development of 10 ASEAN member countries and the Secretary General of ASEAN. The delegation from East Timor attended the conference for the first time as observers.
At the conference, the ministers and delegation heads congratulated the Malaysian Minister of Women, Family and Community Development, Dato Sri Hajah Nancy Shukri on taking the role of AMMSWD-11 Chairman.
At the same time, they also congratulated the Laos' Ministry of Labor and Social Welfare for completing the AMMSWD Chairman role for 2019-2023.
According to AMMSWD-11 Conference President Dato Sri Hajah Nancy Shukri, the AMMSWD-11 theme affirms that ASEAN is an inclusive community developing together in many fields, especially in women's rights.
The meeting focused on reviewing the implementation of activities under the ASEAN Work Plan on Social Welfare and Development for the period 2021-2025 and status of related documents and statements.
Speaking at the Conference, Deputy Minister Le Tan Dung highly appreciated and supported the theme of the Conference. Along with regional efforts, Viet Nam has realized its commitments by ensuring many policies towards women and achieved many results in practice.
AMMSWD is an event held every three years by ASEAN Ministers in charge of social welfare and development, including areas such as social security, the elderly, the disabled and other disadvantaged groups./.