Viet Nam applauded for unwavering commitment to sustainable development: UN
VGP - Viet Nam is applauded for the unwavering commitment to the 2030 Agenda for Sustainable Development and Sustainable Development Goals (SDGs), as well as net-zero emission target by 2050.
September 18, 2023 7:39 PM GMT+7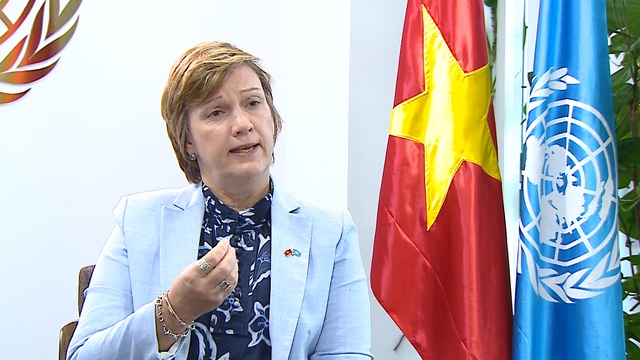 UN Resident Coordinator a.i in Viet Nam Rana Flowers made the above statement in her recent interview with VGP ahead of Prime Minister Pham Minh Chinh's tour to the U.S. to attend the 78th session of the UN General Assembly (UNGA 78) in New York from September 17-23.
The Summit is a moment for the world to come together to accelerate and transform commitments to respond to the urgency of poverty, climate crisis, recovery from COVID-19, and the need to pursue the fair and just path forward articulated by the SDGs to ensure that no one is left behind.
The Government of Viet Nam will go to the summit with a national report that shows where good progress has been made.
The nation will be expected to strongly commit to addressing where progress has not been as strong, where Government funding is needed, where data is missing, where the action to protect biodiversity, to stem the pace of climate crisis is too slow and where people are at risk of being left behind.
According to Rana Flowers, Viet Nam's commitments and actions in the upcoming SDG summit are very important. First, as one of the countries which has made relatively good progress on the SDGs, Viet Nam can showcase and share valuable lessons with other countries.
As the 15th most populous country in the world, and one of the most integrated and fast-growing economies, Viet Nam can use its voice effectively to contribute ideas and push for increased investment and innovation to accelerate the SDG implementation.
And really the stronger Viet Nam's commitments and actions are on SDGs going forward–the more development partners will view positively provision of financial and technical resources for acceleration of SDGs including to address the climate crisis–where Viet Nam is among the top 20 countries worse affected.
Acting UN Resident Coordinator in Viet Nam expressed her belief that Viet Nam will go to the Summit showing the strengths of its progress as well as reflecting on the areas that are yet to show as strong a progress as they would hope.
Viet Nam is fast becoming a global powerhouse for solar panel production, reducing dependency on coal, protecting biodiversity and ensuring clean water and waterways; transforming education, addressing gender disparities; and improving the nutrition of children.
The National Commitments provide a crucial pathway to mobilize participation and support from all stakeholders (whole-of-society approach) and across the government's institutions (whole-of-government approach) at all levels to accelerate the SDG achievement by 2030.
Viet Nam makes considerable progress in sustainable development
Regarding the nation's efforts in implementing the SDGs in the past years, Rana Flowers said, Viet Nam has made considerable progress in various goals and targets.
For example, Viet Nam has progressed well for targets related to poverty reduction, access to basic water and sanitation services, industrial and infrastructure development and access to information and communications technology and internet.
Meanwhile, the nation is still facing challenges in its implementation process, she noted, adding that there remains a large data gap for tracking and assessing SDG progress.
Viet Nam needs to boost the implementation and its investments to bring all SDGs back on track to achieve the 2030 targets. This will not happen without a strong push by Government, a strong financial investment from Government, this cannot be one off financing but done through a clear financed plan to 2030, she recommended.
Based on a UN led SDG costing exercise (by the Economic and Social Commission for Asia and the Pacific), Viet Nam needs an investment of 11 percent of GDP per year from 2021-2030 period to achieve the SDGs.
Developing an SDG Financing Strategy, mobilizing additional financial resources such as climate and green finance, unlocking existing resources, including official development assistance (ODA) and enhancing domestic resource efficiency, is equally important, Rana Flowers reiterated, adding that partners and friends are ready to support Viet Nam in this process.
Viet Nam-active member of international community
The Acting UN Resident Coordinator recognizes and appreciates Viet Nam's dynamic, evolving and valued membership in the UN over the last 45 years.
Viet Nam officially joined the UN in September 1977, two years after its reunification in 1975.
Over the past 45 years, Viet Nam has transformed from a country reliant on UN assistance, to one with increasing capacity to strongly contribute to regional and global agendas.
"As captured in the One UN Common Framework with the Government - the UN agencies here today are committed to continue to work hand in hand with the Government to support Viet Nam to implement the 2030 Agenda for Sustainable Development", she stressed.
According to Rana Flowers, Viet Nam is a responsible member and a strong supporter of multilateralism anchored in the UN. Today, Viet Nam plays an incredibly important regional and global role, for example the active role in peacekeeping, as a non-permanent member of the UN Security Council for the 2020-2021 term, and as the ASEAN Chair for 2020.
Viet Nam has demonstrated itself to be an increasingly active member of the international community, including its contributions to UN Peace Operations and to the UN Security Council's Women Peace and Security Agenda.
Viet Nam is applauded for the unwavering commitment to the 2030 Agenda for Sustainable Development and Sustainable Development Goals (SDGs), as well as net-zero emission target by 2050, thus steering the country's development on the path towards inclusiveness, sustainability and resilience.
With Viet Nam's election to the UN Human Rights Council for the 2023-2025 term, the UN looks forward to supporting Viet Nam in its plans to translate human rights commitments to actions.
"The UN welcomes Viet Nam's pledges to strengthen human rights in all its dimensions, and encourages further action to prioritize gender equality, and better protect the rights of vulnerable groups in line with international standards and good practices, leaving no one behind", she shared./.