Viet Nam pledges to promote gender equality, women's empowerment with ASEAN
VGP - Viet Nam pledges to foster collaboration with other ASEAN member states to promote gender equality and women's empowerment, making contributions to a more sustainable, inclusive and resilient future in the region and the world.
October 13, 2022 11:13 AM GMT+7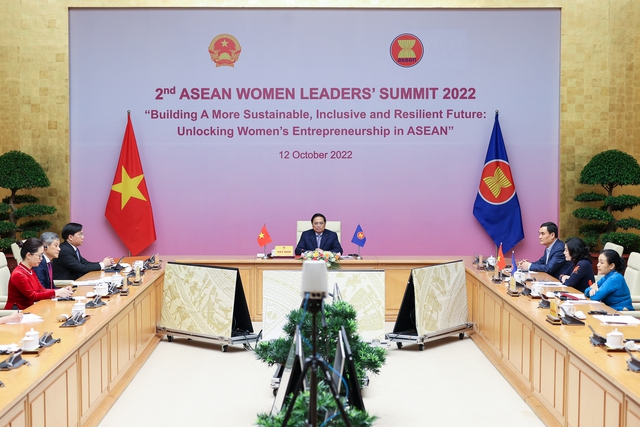 Prime Minister Pham Minh Chinh made that above statement while addressing the 2nd ASEAN Women Leaders' Summit 2022 on October 12 at the invitation of Cambodian Prime Minister Samdech Techno Hun Sen.
In his remarks, the Government chief reiterated the important role and contributions of female enterprises to the national and regional economic rebound and development process.
Pham stressed the need to establish a synchronous institution, legal framework and policy system to build a gender-responsive business environment.
It is necessary to launch gender mainstreaming in an inclusive manner across all levels from the local, national to regional levels as well as all sectors from politics, economics and society, particularly among sectors that attract the participation of a large number of female workers, he noted.
Pham asked for enhancing the self-reliance of women's enterprises and businesswomen to adapt to the ever-changing business environment and new trends such as green economy and digital transformation.
He emphasized the necessity to strengthen communication and improve public awareness of gender equality and women empowerment with a view to forging an environment of peace, stability, friendship, cooperation and sustainable development in ASEAN and the world.
The 2nd ASEAN Women Leaders' Summit 2022, hosted by Cambodia, is themed "Building a more sustainable, inclusive, and resilient future: Unlocking women's entrepreneurship in ASEAN".
The ASEAN Women Leaders' Summit was first held by Viet Nam as ASEAN Chair in 2020. It aims to provide a high-level forum for advancing gender equality and women's empowerment, and placing women at the center of efforts to build the ASEAN Community.