UNDP, GEF help enhance management of biosphere reserves
VGP - The provinces of Dong Nai, Quang Nam and Nghe An have been financed more than US$6.6 million to enhance their management of biosphere reserves during 2019-2024.
December 27, 2022 2:21 PM GMT+7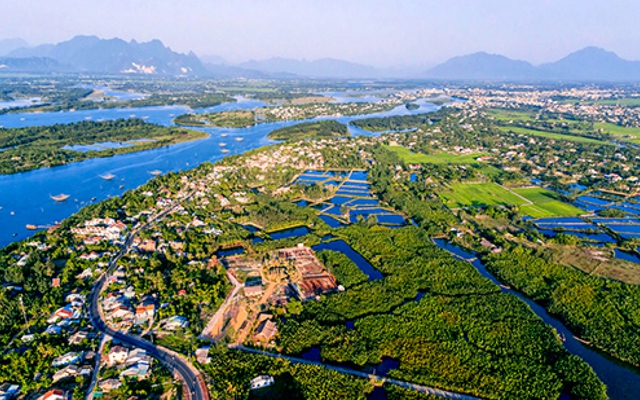 A meeting took place on December 26 to review the three-year implementation of a project on mainstreaming natural resource management and biodiversity conservation objectives into socio-economic development planning and management of biosphere reserve in Viet Nam.
The project was sponsored by the Global Environment Facility via the United Nations Development Program (UNDP).
The project aims to address multiple development challenges threatening the sustainability of biodiversity and ecosystem services in Viet Nam's Biosphere Reserves by strengthening coordinated planning in terms of national and provincial policymaking on socio-economic development.
It targets to promote sustainable natural resources management, facilitate biodiversity conservation and restoration, and foster transformative livelihood models.
Undertaken in the Cu Lao Cham-Hoi An (Quang Nam Province), Western Nghe An, and Dong Nai Biosphere Reserves, the project aids the pursuit of Sustainable Development Goals (SDGs) in its efforts to increase ecological resilience and harmonize synergies in governance and participation, especially in terms of gender mainstreaming.
The targeted achievements of the project include 4,000 hectares of degraded forests restored; 60,000 hectares of set-aside areas (non-exhaustive use) sustainably managed; and at least 1.22 million hectares of biosphere reserves managed through participatory approaches.
In the 2019-2024 period, 2,500 households will benefit from improved livelihood models with a 20 percent increase in average income and 9,350 people will receive direct benefits, with 40 percent of them being women.
Addressing the event, UNDP Resident Representative in Viet Nam Ramla Al Khalidi said that the UNDP will continue coordinating with the Ministry of Natural Resources and Environment to promote programs and initiatives on nature reserves and biodiversity such as the Biodiversity Financing Initiative (BIOFIN) and the Biodiversity and Ecosystem Services Network (BES-Net).
Meanwhile, the UNDP will also support Viet Nam in launching other activities to speed up the implementation of the national biodiversity strategy to 2030 with a vision towards 2050 in accordance with the global biodiversity framework.