PM meets UN General Assembly President
VGP - Prime Minister Pham Minh Chinh had a meeting with UN General Assembly President Abdulla Shahid as part of his working visit to the U.S. and the UN in New York, the U.S. on May 16.
May 17, 2022 11:03 PM GMT+7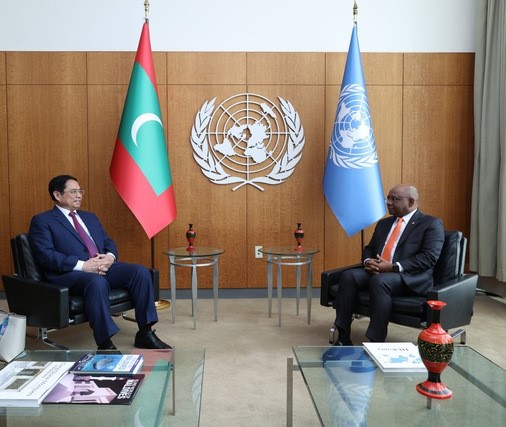 The Vietnamese Government chief spoke highly of the priorities of the 76th session of the UN General Assembly in all spheres of sustainable development, post-COVID-19 recovery, climate change response and UN reform.
Viet Nam attaches importance to the central role of the UN in global governance, leading multilateral efforts, initiating global solutions to deal with common challenges of the international community such as diseases and climate change, Pham affirmed.
Viet Nam has made practical contributions to the UN, including successfully fulfilling the role as a non-permanent member of the United Nations Security Council (UNSC) for the tenure 2020-2021, and is running for the UN Human Rights Council's 2023-2025 term and other important agencies of the UN in the upcoming time, said Pham.
He suggested the UN continue giving priority to supporting developing countries in technology transfer of vaccine and treatment drug production, medical supplies, development finance, social security assurance and policy advice, and the sharing of experience in post-pandemic recovery towards greener, more sustainable and resilient manner.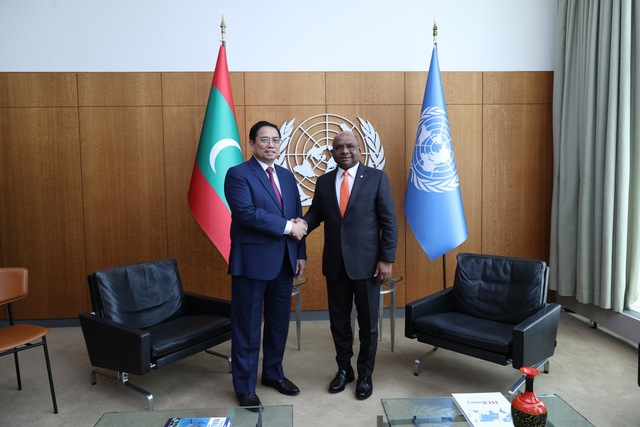 The Southeast Asian nation vows to realize its commitments at the COP26, regarding it as a key and urgent task, Pham noted, expecting that the UN will encourage developed countries to fully realize their commitments to assisting developing ones, particularly in climate finance and technology transfer.
As a coastal nation, Viet Nam attaches importance to strengthening maritime security, including ocean conservation and use, sustainable exploitation of marine resources, ensuring the environment of peace and stability and highlighting the compliance of international law, including the 1982 United Nations Convention on the Law of the Sea (1982 UNCLOS).
For his side, Shahid highly valued Viet Nam's socio-economic achievements and good management of the COVID-19 pandemic.
He spoke highly of Viet Nam's initiative to call on the United Nations to mark December 27 as the International Day of Epidemic Preparedness and its crucial contributions to consolidating multilateralism and participation in the UN activities.
Shahid pledged to promote ASEAN-UN cooperation to meet their expectation and mutual interests.
Regarding international and regional issues of mutual concerns, both sides vowed to enhance multilateralism and international cooperation in effectively coping with global challenges./.