Turkish President thanks Viet Nam helping in post-quake rescue efforts
VGP - President of Turkey Tayyip Erdogan expressed thanks to Vietnamese forces for their timely support and tireless efforts in search and rescue operations after powerful earthquakes hit the country's southeast.
February 21, 2023 4:39 PM GMT+7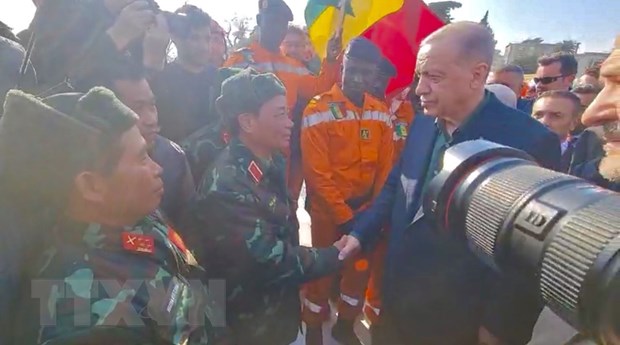 The President noted his gratitude to foreign countries for their emergency aid and dispatch of search and rescue forces to Turkey, including one from the Vietnamese Ministry of National Defense, during his February 20 field trip to Antakya, the capital of Hatay province, one of the localities hardest hit by the natural disaster.
Erdogan met head of the team, Maj. Gen. Pham Van Ty, Deputy Chief of the Office of the National Committee for Incident and Disaster Response, Search and Rescue and Deputy Director of the Viet Nam People Army (VPA)'s Department of Search and Rescue.
As of February 20, the VPA team had searched 31 locations in Antakya, helping discover 15 sites with victims trapped under the rubble, including two places with signs of survivors. They handed over the sites to the local rescue force to bring 28 dead bodies out.
During that process, they coordinated with the Bahraini and Mexican teams to find out three sites with 10 corpses, and assisted three families to move household goods out of the rubble.
The 76-strong rescue teams of the VPA, along with 35 tons of cargo, departed for Turkey on February 12 night to assist the country in recovery efforts following the devastating earthquake.
Meanwhile, the 24-member team of the Ministry of Public Security engaged in search and rescue efforts in the Turkish southeastern city of Adiyaman after they arrived at Istanbul International Airport on February 10.
Prime Minister Pham Minh Chinh on February 14 wrote to the Presidents of Turkey and Syria offering aid of US$100,000 each to the two countries./.