Viet Nam announces US$200,000 aid to Turkey, Syria after earthquake
VGP – Viet Nam will provide Turkey and Syria with US$100,000 each as relief aid to support their recovery efforts following a devastating earthquake on February 6, Prime Minister Pham Minh Chinh announced on February 14.
February 15, 2023 8:36 PM GMT+7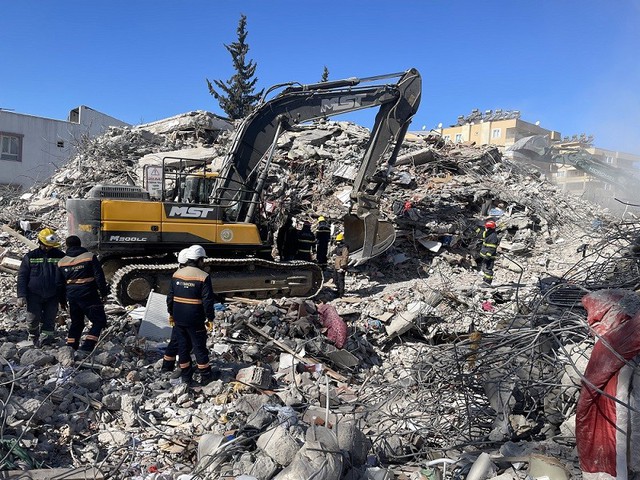 The leader unveiled the information in a letter sent to the Presidents of Turkey and Syria, in which he said Vietnamese ministries and agencies would be assigned to take more necessary support measures in the time ahead.
Also on February 14, in a letter sent to the Vietnamese community in Turkey, Deputy Minister of Foreign Affairs Pham Quang Hieu, also Chairman of the State Committee for Overseas Vietnamese Affairs (COVA), extended sympathy to and shared earthquake-induced difficulties of the community.
He affirmed that the committee, the Ministry of Foreign Affairs and the Vietnamese Embassy in Turkey always accompany the community.
Given the lingering impacts of the earthquake, the Deputy Minister hoped that the community would continue staying united to overcome the difficulties and support local residents in recovery efforts as possible.
On February 9 and 12, two delegations of 100 military personnel and police officers and equipment were sent to Turkey to join search and rescue operations in the country.
Along with rescue operations, the Vietnamese army transported 35 tons of logistics materials, including food, nursing tools, medical equipment, medicines, and barracks supplies for disaster recovery in Turkey.
Also, the Ministry of Public Security's rescue team donated 2 tons of medical equipment through the Turkish Disaster and Emergency Management Authority.
Up to the evening of February 14, the Ministry of Public Security's rescue team coordinated with the Pakistani team to successfully rescue a 17-year-old boy and find four bodies in Adiyaman.
Meanwhile, the Viet Nam People's Army delegation is approaching the scene at Rustem Tumer Pasa Road, Antakya, the capital of Hatay province./.