Traveldudes suggests top scuba diving destinations in Viet Nam
VGP - Nha Trang, Phu Quoc, Con Dao and Cu Lao Cham are among top scuba diving destinations in Viet Nam as suggested by international travel website Traveldudes.
June 13, 2023 8:25 AM GMT+7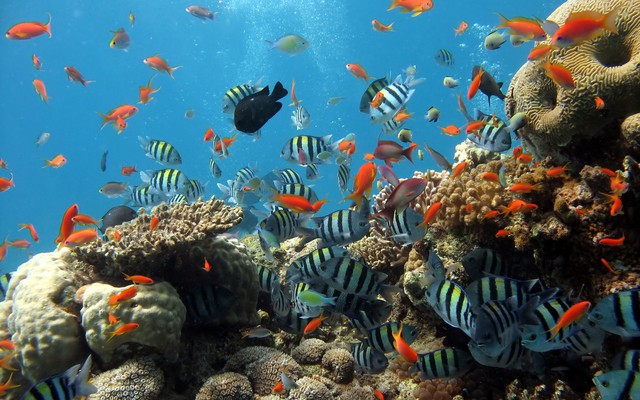 According to Traveldudes, what makes Viet Nam truly special for scuba diving is not just the incredible biodiversity and picturesque landscape, it is warmth and friendliness of the locals, the welcoming dive centers, and the sense of adventure that permeates every dive.
Viet Nam boasts an impressive coastline that stretches for thousands of kilometers, offering a diverse range of dive sites.
From vibrant coral reefs teeming from marine life to dramatic rock formations and submerged forests, the underwater scenery is simply mesmerizing.
Nha Trang in the central province of Khanh Hoa is known for its colorful coral reefs, providing a backdrop for encounters with clownfish, angelfish, and butterfly fish. Mun Island and Hon Mun Marine Protected Area are some of the best dive sites in Nha Trang.
Phu Quoc in the southern province of Kien Giang is an island paradise off the southwestern coast of Viet Nam that beckons scuba diving enthusiasts from all corners of the globe.
The best time to visit Phu Quoc for diving is from November to May when the sea is calm and the visibility is at its best.
Traveldudes also mentioned Turtle Island, Finger Island and An Thoi Archipelago are dive sites tourists should not miss exploring in Phu Quoc island city.
The best time for diving in Con Dao (in the southern province of Ba Ria-Vung Tau) is from March to September as water temperatures range from 27 to 30 degrees Celsius, providing the perfect conditions for underwater exploration.
Bay Canh Island, Hon Tai Island and Con Son Bay are among the best dive sites in the Con Dao Archipelago.
Cham Islands or Cu Lao Cham (in the central province of Quang Nam) is a UNESCO Biosphere Reserve nestled off the coast of Hoi An Ancient Town, where the wonders of the underwater world await.
The best time to visit the Cham Islands for diving is from April to September. Visitors should take a stroll along the pristine beaches, visit the local fishing villages to experience the island's culture or go hiking through the lush forest to discover hidden viewpoints, suggested the Traveldudes./.