Switzerland pledges to help Viet Nam develop circular economy
VGP - Switzerland would assist Viet Nam in developing circular economy and advancing digital transformation toward green growth, said Federal Councilor Guy Parmelin, head of the Federal Department of Economic Affairs, Education and Research (EAER) of Switzerland.
January 17, 2023 3:46 PM GMT+7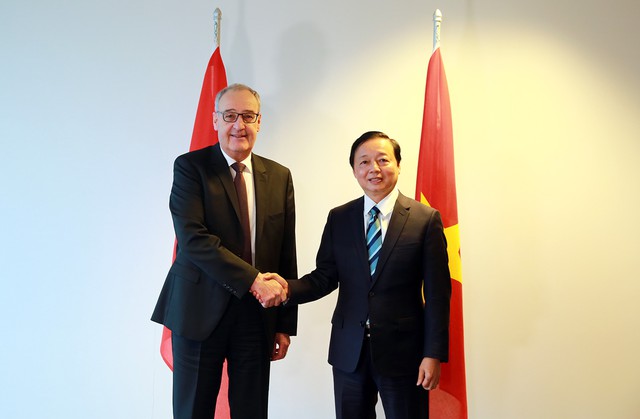 Federal Councilor Guy Parmelin made the above statement at his meeting with Vietnamese Deputy Prime Minister Tran Hong Ha in Davos on January 16 (local time).
The two leaders said they were pleased to see the bilateral relations growing over the past 50 years.

In the first 11 months of 2022, two-way trade turnover totalled US$721.3 million. Switzerland had 197 valid FDI projects with a total registered capital of US$ 1.89 billion in Viet Nam, ranking 21st out of 140 countries and territories investing in the Southeast Asian country.
Viet Nam has become one of the most charming markets for foreign investors as the country has a population of nearly 100 million people, aspiration in transformation of growth modal towards sustainable growth, green economy, circular economy, low carbon economy, and has signed 15 free trade agreements, said Tran.
He called on Swiss investors to pour investment capital in such fields like advanced technology, new technology, high technology, clean technology, environment, innovation, modern management, high added value, spillover effects, connecting global production and supply chains.
Tran asked Switzerland to work with Viet Nam to speed up negotiations for a free trade agreement between Viet Nam and the European Free Trade Association (EFTA).
In reply, Federal Councilor Guy Parmelin congratulated Viet Nam on signing a US$15.5B energy deal with G7 nations.

After the talks, Tran and Guy co-chaired a meeting with Swiss enterprises and investors who are interested in investment opportunities in Viet Nam./.