State President welcomes Lao Vice President
VGP - Viet Nam and Laos agreed to hold activities marking the 60th anniversary of their diplomatic ties, and 45 years of the signing of the Viet Nam - Laos Treaty of Amity and Cooperation in a bid to boost sentiments among people of the two countries, particularly younger generations.
April 27, 2022 9:17 AM GMT+7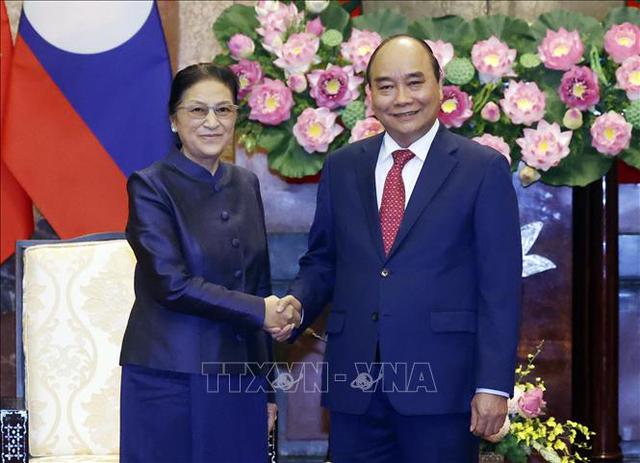 President Nguyen Xuan Phuc on Tuesday hosted a reception for Lao Vice President Pany Yathotou who is on an official visit to Viet Nam.
The Vietnamese President spoke highly of the contributions made by the Lao Vice President to the development of the Laos-Viet Nam special relationship and congratulated Laos on the country's important achievements in recent years.
He suggested the two countries seek new orientations for cooperation projects, especially strategic infrastructure that connects the two economies and capitalise on the seaport system and 17 free trade agreements Viet Nam has signed, including the Regional Comprehensive Economic Partnership (RCEP) in order to broaden export room for both Viet Nam and Laos.
Vice President Yathotou expressed her pleasure to pay the first offical visit to Viet Nam in her new position and conveyed regards from General Secretary of the LPRP Central Committee and President of Laos Thongloun Sisoulith to President Nguyen and high-ranking officials of Viet Nam.
The Vice President applauded the Vietnamese people's recent achievements in all fields, especially in the implementation of the resolution issued at the 13th National Congress of the Communist Party of Viet Nam.
Yathotou pledged to continue efforts to further nurture the Laos-Viet Nam great friendship, special solidarity and comprehensive cooperation.
Earlier the same day, Vice President Vo Thi Anh Xuan held talks with her Lao counterpart Pany Yathotou in Ha Noi.
The Vice Presidents pledged to maintain regular high-level visits and meetings through multiple channels, coordinate to effectively implement agreements signed at the 44th meeting of the Viet Nam-Laos Inter-governmental Committee, especially for bilateral cooperation through 2021-2025 and the cooperation strategy for 2021-2030.
The two sides agreed to organize activities within the Viet Nam-Laos and Laos-Viet Nam Solidarity and Friendship Year to celebrate the 60th anniversary of the bilateral ties (September 5), and the 45th anniversary of the signing of the Treaty of Amity and Cooperation (July 18).
The pair was determined to elevate the economic ties and expand infrastructure connectivity in such areas like transport, energy, telecommunications and the digital economy./.