Viet Nam, Laos agree to step up infrastructure connectivity to help Laos become land-linked country
VGP – Vietnamese Prime Minister Pham Minh Chinh and Lao Prime Minister Phankham Viphavanh discussed ways to step up economic connectivity between the two nations during their summit meeting in Ha Noi on Saturday.
January 08, 2022 5:09 PM GMT+7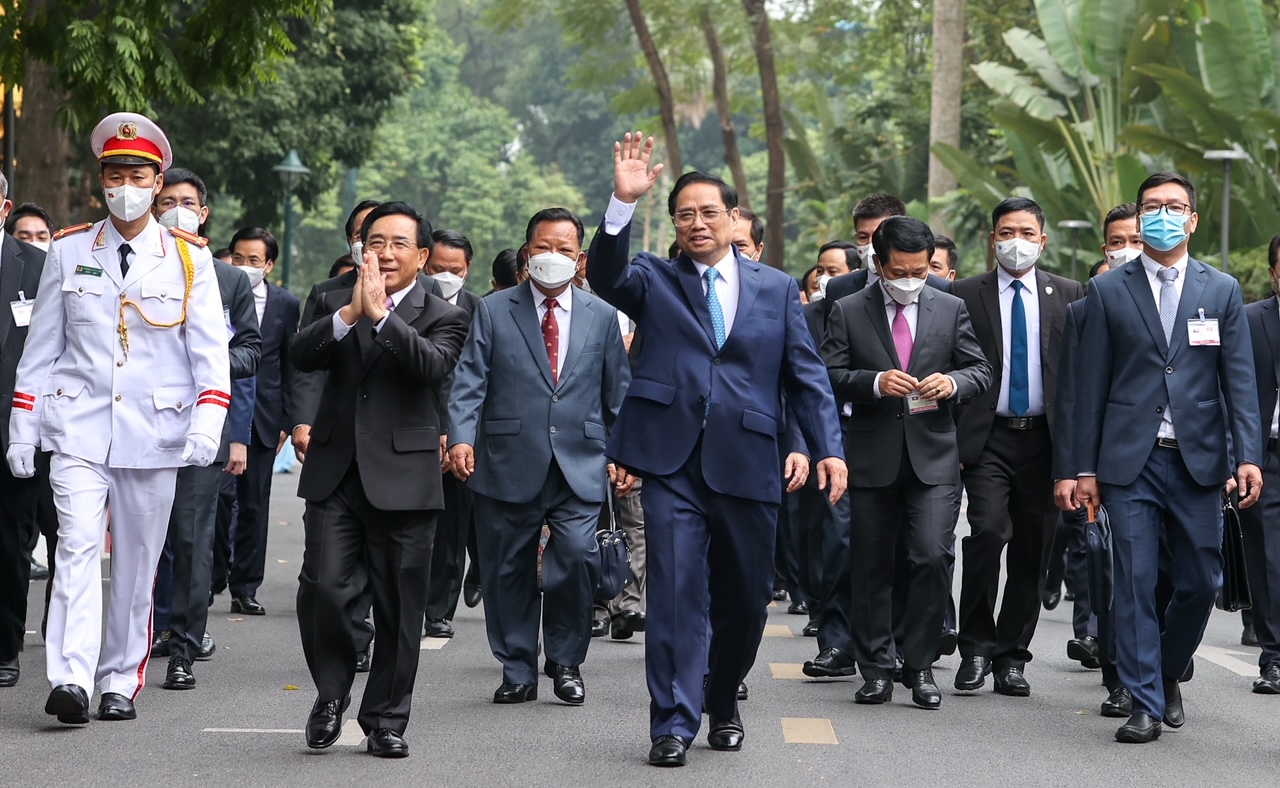 >>> PM Pham Minh Chinh hosts welcome ceremony for Lao counterpart
The two Prime Ministers underlined the significance of cross-border infrastructure projects that would help Laos to become a land-link country.
These are multimodal transportation projects, including a railway that runs from Laos' Vientiane capital to Vung Ang seaport of Viet Nam's central Ha Tinh province and an expressway linking Viet Nam's Ha Noi capital and Vientiane.
Laos has built Thanaleng Dry Port and Vientiane Logistics Park that would help significantly facilitate logistics and transport and thus boost trade and Laos' economy.
The Thanaleng Dry Port and Vientiane Logistics Park are located next to the Laos-Thailand railway station and linked to the railway running from the Lao capital of Vientiane to the Chinese border.
The railway and expressway which connect Ha Noi capital and Vung Ang seaport of Viet Nam and Laos' Vientiane are expected to help Laos realize its vision to become a regional logistics center, thus boosting connectivity within the region and beyond.
At the summit meeting, both Pham and Phankham Viphavanh agreed the two countries will coordinate in mobilizing resources from international partners for their joint projects and programs.
Regarding multilateral aspect, the two Prime Ministers compared notes on regional and international situations, pledging to continue close coordination and mutual support at multalteral forums such as ASEAN, the UN, and Mekong Subregion mechanisms.
They vowed to work with other ASEAN Member States to support Cambodia to successfully undertake the role as ASEAN Chair in 2022.
The pair also agreed to coordinate in maintaining the common positions of ASEAN over strategic issues related to peace and stability in the region, including the East Sea issue./.