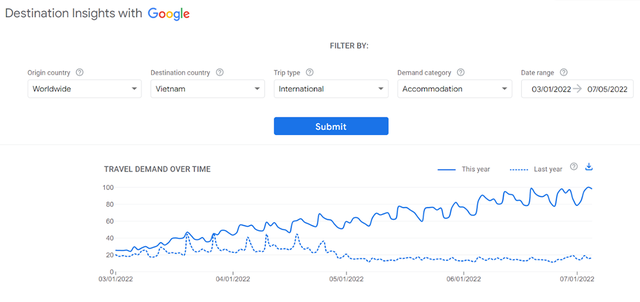 According to the monitoring travel trends tool Google Destination Insights, data from Google pointed out that the search volume for Viet Nam tourism from foreign countries increases gradually month by month.
By July 2022, the number of international search volume for airlines to Viet Nam has increased three times compared to March.
As many as 602,000 foreign arrivals traveled to Viet Nam in the first half of 2022, up 582.2 percent compared to the same period of 2021, the General Statistics Office reported.
The number of foreign visitors in June was estimated at 237,000, six times higher than March 2022.
The Ministry of Planning and Investment said, in the first six months of 2022, a total number of 3,065 enterprises operating in tourist accommodation and catering services was established, up 27.7 percent, while 3,902 were set up, involving in employment and tourism services, up 32.4 percent.
Meanwhile, 4,577 firms in the tourism sector re-operated in the first half this year./.