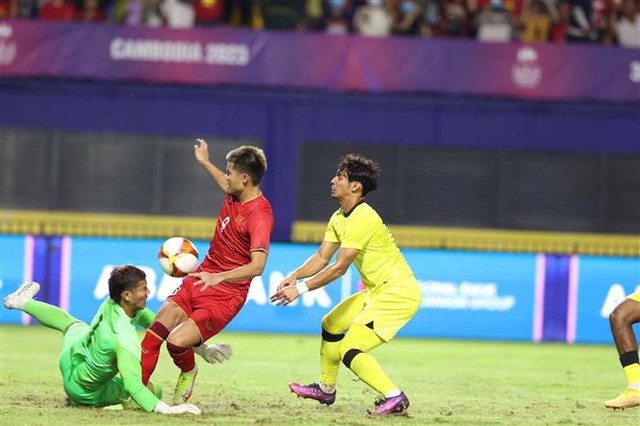 It was the defending champion's third win in row in Group B. It helped the team go on with one game in hand.

Nguyen Van Tung broke the deadlock in the seventh minute, scoring off a rebound after his penalty was saved by Malaysian goalkeeper Sikh Izhan Nazrel Sikh Azman.
Tung doubled Viet Nam's lead when he headed home Vo Minh Trong's cross in the 33rd minute.
Malaysia pulled one back through Aiman Afif Md Afizul in the 43rd minute but suffered a setback when Safwan Mazlan was sent off in the 78th minute.
It became a nightmare for Malaysia six minutes later as Najmudin Akmal Kamal Akmal was red carded for a late challenge as Viet Nam held on to seal the victory and a place in the semi-finals.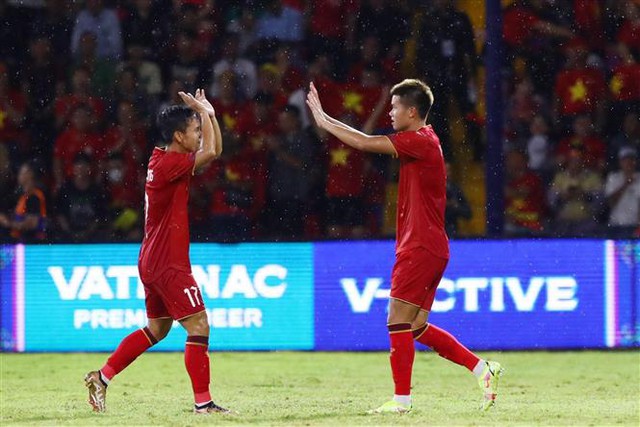 "We all know that if Viet Nam beat Malaysia we would qualify for the semi-finals. It is a strong force also pressure for players. It is a difficult match because Malaysia must win to go," said coach Philippe Troussier of Viet Nam in the post-match conference.
"We well prepared for the match and were ready for unpredictable challenges. In this match, I am not only happy with the score but also the spirit of the whole team.
"The pitch is bad, it is difficult to carry out our playing style as expected but my players showed their determination."
The French coach refused to talk much about the main referee's Malaysian two red cards but admitted that Viet Nam benefited from these cards.
Playing with two more players was an advantage that helped his team to control the ball more and maintain the score till the end under Malaysia's strong pressing.
Troussier said he respected all teams. Viet Nam would play the best to win the tournament, no matter who their rival was.
On the other side, coach Elavarasan Elangowan blamed the heavy rain and the main referee's decisions for his team's defeat.
He also praised Viet Nam as one of the best teams in Southeast Asia.
In another match of Group B, Thailand cruised to a 4-1 win over Laos to top the ranking table.
They have same points with Viet Nam after three wins. Viet Nam is ranked behind them due to the goal difference.
In the last counter of Group B on May 11, Viet Nam will play Thailand meanwhile Malaysia will face Singapore./.