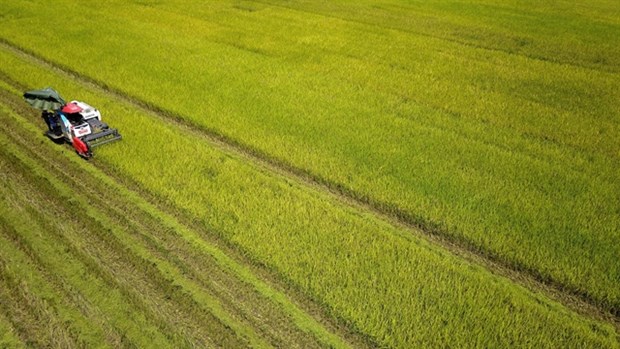 Key goals
The strategy outlines key goals with an aim to develop the agricultural processing sector in a modern, effective and sustainable manner, and turn Viet Nam into one of the world's top farm producers by 2030.
Particularly, the strategy targets to increase mechanization rate for different types of agricultural production, including over 90 percent for key crops, over 80 percent for livestock and poultry production, 70 percent for aquaculture, and 85 percent for fishing and preservation on fishing vessels by 2025.
Growth rate of added value of the agricultural product processing industry will reach over 8 percent per year by 2025 and 10 percent per year by 2030.
Over 70 percent of key processing and preserving agricultural product sites will meet average advanced technology level.
The strategy also aims to reduce post-harvest losses of key agricultural products to 0.5 percent from 1 percent.
In addition, the strategy looks to raise export value rate of processed products of key agricultural products to 60 percent.
Solutions
To materialize these goals, the Government will facilitate the establishment of modern agricultural processing groups and enterprises and agricultural product processing industrial clusters which are connected with concentrated raw material production regions.
The Government will focus on perfecting regulations and policies on land towards land accumulation and prioritized coordinating mechanisms among agencies and localities.
It will also develop policies to promote social engagement in research and transfer, application of scientific and technical advances to agricultural mechanization and processing of agricultural products, improve manpower capacity and management.
Factors of sufficient supply of raw materials and connection of agricultural product processing zones and agricultural commercial services must be taken into consideration.

Agriculture is historically an important economic sector of Viet Nam where it contributed to 12.4 percent to the country's GDP in 2021. However, around 30 percent of farms in Viet Nam remain un-mechanized.
In recent years, the sector has witnessed a converging trend of scattered small-scale farms towards concentrated large-scale businesses with an increasing focus on mechanization and automation. Accompanied by population growth, urbanization, and higher productivity demand with shrinking agricultural land, the growth in demand for agricultural machinery is expected to be robust in the coming years.
Meanwhile, Viet Nam is only self-sufficient for 30 to 40 percent of agricultural machinery with the remaining machinery imported mostly from China and Japan./