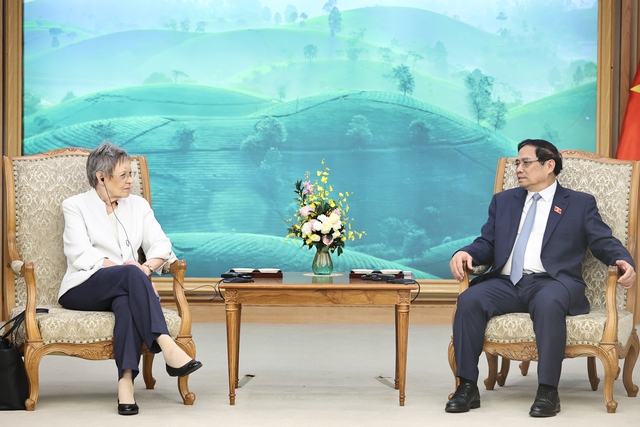 The Vietnamese Government chief made the call during a reception for French virologist Prof. Francoise Barre-Sinoussi in Ha Noi on November 14.
He said that the Viet Nam - France cooperation has been continuously strengthened and developed over the past time, including medical collaboration, especially in the fight against the COVID-19 pandemic.
Viet Nam appreciates the results of medical cooperation with France in general and with the Pasteur Institute in particular, said the Prime Minister.
He suggested that France in general, the Pasteur Institute and Prof. Barre-Sinoussi further support Viet Nam in expanding cooperative activities, exchanging experience, training scientific staff, building facilities, transferring technology, and implementing research projects in prevention and control of HIV/AIDS, Hepatitis B and C and other infectious diseases in Viet Nam.
He called on France to assist Viet Nam in training medical human resources, increasing scholarships for Vietnamese medical students and staff to study and practice in France, acting as a bridge for scientists to exchange and work in the two countries, and providing funding for Viet Nam to implement specific programs and projects in the health sector.

In reply, Prof. Barre-Sinoussi expressed her gratitude to the Vietnamese Government and the Prime Minister for their support for the two sides to cooperate and effectively implement projects in the field of healthcare, serving as a model for the world to follow.
She also agreed to accompany Viet Nam not only in the fight against HIV but also in the prevention and control of infectious diseases such as COVID-19, tuberculosis, hepatitis, monkeypox, dengue fever and other emerging infectious diseases.
Prof. Barre-Sinoussi and her colleagues added they are ready to provide technical assistance, exchange research, support human resources training for Viet Nam and, act as a bridge connecting Vietnamese scientists and those in the world as the Vietnamese Prime Minister suggested./.