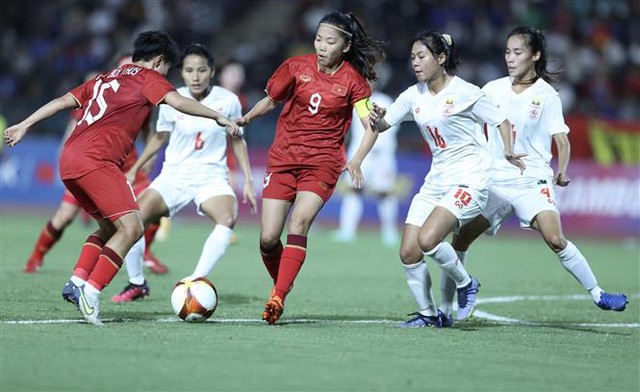 It is the eighth time Viet Nam has been on top of the region while Myanmar was settled with their fourth silver medal.
Having beating Myanmar 3-1 in the group round, Viet Nam took control of the proceedings from the first blow of the referee's whistle.
Their unrelenting high pressure paid off in the 12th minute with Huynh Nhu opening the scoring at the 12th minute.
Myanmar strongly fought back and opened more attack but they could do only little to trouble goalkeeper Tran Thi Kim Thanh of Viet Nam
Forward Nguyen Thi Thanh Nha was on the field when it was 20 minutes to the end.
At the 76th minute, the superb substitute sealed the second gold for Viet Nam from angle finish, which her coach Mai Duc Chung praised as the most beautiful of the area.
Myanmar did not give up. They wanted to repeat their come-from-behind victory against Thailand in the semi-finals.
However, all of their attempts were denied.
"I am super happy today with this trophy. This SEA Games seems to be the most memorable tournament for me," said coach Mai Duc Chung.
"We have met a lot of difficulties in our preparation for the tournament. But we overcame them to win. It is Vietnamese women's determination and spirit."
Captain Huynh Nhu shared that another challenge of Viet Nam was the hot weather which strongly affected players' fitness. All players had a tough final at first but after the opener it became easier. Playing with confidence would make them play better, leading to the second goal.
The champion will have few days rest before they are back for training, preparing for their FIFA Women's World Cup debut in Australia & New Zealand 2023.
"We will train next week and have training courses in Germany and Poland. We will have friendly matches with the U23 team of the hosts. Then, we comeback home and will leave for New Zealand," said Chung.
"Despite a tough Group E Chung and his players expected positive result. He said the SEA Games win while be a strong push for his players.
In the bronze medal playoff, Thailand defeated Cambodia 6-0.
Thailand, who suffered a shock semi-final 4-2 defeat to Myanmar, was back at their best at the National Olympic Stadium.
Saowalak Pengngam and Pattaranan Aupachai made a double in the 16th and 34th minutes. Other scorers were Jiraporn Mongkoldee and Pannitha Jeeratanapavibul./.