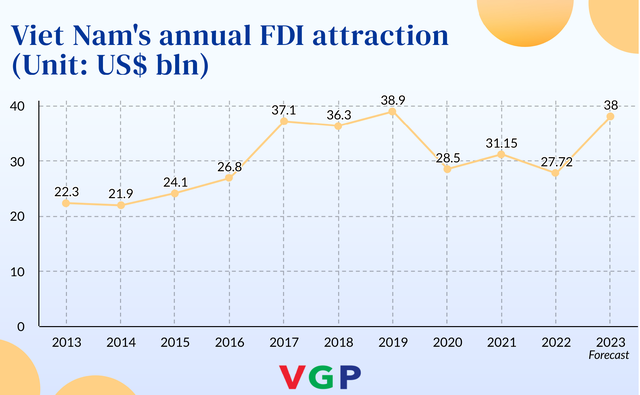 The above figure would come as a result of good economic performance in 2022 and increased efforts to improve the business environment, thus helping the Southeast Asian nation to win trust from investors.
Many large firms have shown a keen interest in making investments in the country. Global technology and electronics giants have seen shifting supply chains and have moved to diversify production lines to Viet Nam. The investment expansion announcements made by Samsung, LG, Foxconn, and Lego can therefore be seen as an evidence of the unrelenting appeal of the Vietnamese market.
With this level of FDI inflow, domestic enterprises have the opportunity to participate deeply in the global supply chain. In addition, Viet Nam has the chance to catch up with the trend of shifting the global production chain in a bid to attract foreign investors in the a wide range of programs and projects to support national digital transformation and digital transformation for businesses have also been widely carried out.
"I think that investment funds and innovative businesses will be important partners of the Government and ministries in order to share, support and contribute ideas to making investment policies on investment for innovative start-ups, thereby helping Viet Nam to have an increasingly attractive business environment in the region and in the world," Minister of Planning and Investment Nguyen Chi Dung said.
According to a plan set for 2023, as well as the 2021-2030 period, the country targets to attract high-tech projects with modern management and high added value to connect to global production and supply chains.
In addition, it is necessary to build and develop innovation centers and financial centers of regional and international stature, in order to create the driving force for socio-economic development in the coming period.
Minister of Planning and Investment Nguyen said that a large number of Vietnamese startups are gradually growing, attracting greater capital over the years. These are good signs for the innovative startup ecosystem.
To anticipate this FDI wave, ministries, sectors, and localities are required to be well prepared with regards to land, human resources, and infrastructure, whilst continuing to improve the local business environment.
Mr. Dau Anh Tuan, Deputy General Secretary of the Viet Nam Chamber of Commerce and Industry (VCCI), saidthat there remains an urgent need for a filter in FDI attraction in order to draw quality projects.
VCCI, with the support of the UN Development Program (UNDP), has developed a screening tool specifically for FDI projects. The tool includes mandatory assessments on whether the project fully complies with investment laws in the country; mandatory assessments of potential economic, social, and environmental risks; and criteria based on international best practices and responsible business practices.
Earlier, in 2022, the country attracted approximately US$27.72 billion in FDI, equivalent to 89 percent of the figure recorded in the previous year.
However, the disbursement of FDI stood at an estimated US$22.4 billion, up 13.5% year on year, making it the highest amount recorded over the past five years. It also indicates a positive sign that businesses are gradually recovering from the COVID-19 pandemic by maintaining and expanding production.
Among the 108 countries and territories pouring capital into Viet Nam last year, Singapore ranked first with US$6.46 billion, followed by the Republic of Korea (US$4.88 billion) and Japan (US$4.78 billion)./.