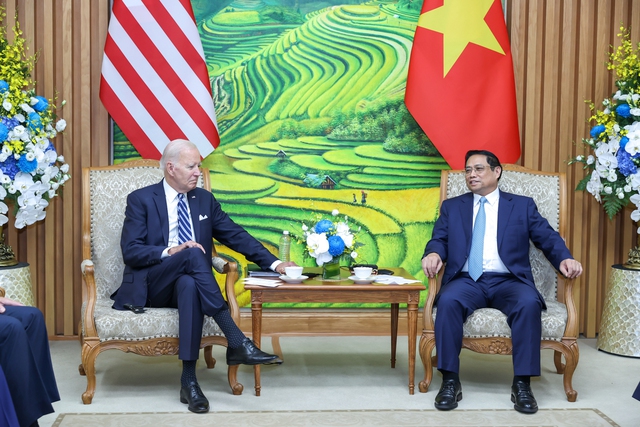 Pham underlined the significance of the decision made by Party General Secretary Nguyen Phu Trong and U.S. President Biden to lift up the two countries' comprehensive partnership to comprehensive strategic partnership, which reflects the stature of the bilateral ties and would contribute positively to peace, stability, cooperation and development in the region and the world.
The Prime Minister welcomed the U.S. support for a strong, independent, self-reliant and prosperous Viet Nam, calling on the U.S. to continue promoting specific forms of cooperation to realize the commitment.

He suggested both nations strengthen collaboration via all channels, particularly between their Parties, States and people-to-people links.

It is necessary to regard economic-trade-investment ties as an "eternal engine" in the bilateral relationship, noted Pham, proposing the U.S. soon recognize Viet Nam's market economy status.
He called on the U.S. to upgrade the Viet Nam-U.S. Trade and Investment Framework Agreement and encourage its high-tech companies to invest in Viet Nam.
He suggested both sides make breakthroughs in science-technology, innovation, education-training cooperation while fostering cooperation in climate change adaption, green growth, and development of renewable energy.
Viet Nam is an active and responsible member of the international community, Pham asserted, expecting the U.S. to continue practical assistance for the country's UN peace-keeping operations.
In the context of the world facing challenges on non-traditional security, Pham hailed the role of multilateralism, and recommended the U.S. continue sparing resources to effectively implement ASEAN-U.S. comprehensive strategic partnership and Mekong-U.S. Partnership via substantive and specific projects.
The Prime Minister shared with President Biden about the pain and loss of the American people in the terrorist attack on September 11, 2001, affirming Viet Nam's standpoint of combating terrorism in any form and enhancing international cooperation in anti-terrorism, including cooperation with the U.S. in this area.
The two leaders expressed their delight on the extensive development in the bilateral relations in all bilateral, regional and international levels.
Economic-trade-investment ties continue to be a spotlight and impetus of the bilateral relations with the two-way trade reaching US$123 billion in 2022.
Crucial achievements have been made in all sectors of science-technology, education-training, security-defense, overcoming war aftermath, climate change adaption and people-to-people exchanges, they emphasized.
Joe Biden, for his side, re-affirmed support a strong, independent, self-reliant and prosperous Viet Nam as well as support for the Southeast Asian nation to continue its renovation, foster international integration, undertake a bigger role in ASEAN and the region, and promote international cooperation in coping with global challenges.
He consented with the Vietnamese leader's orientation and measures to realize the new cooperation framework in prioritized areas such as health, social security, green energy and high-tech.
He suggested both countries step up semiconductor supply chain cooperation through human resource training programs for Viet Nam, thus gradually assisting Viet Nam to take part in and become an important link in the global and regional supply chains./.