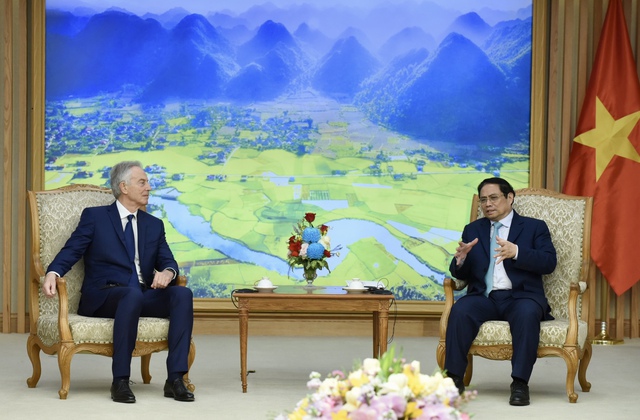 Pham applauded contributions of Tony Blair for Viet Nam-UK relations when the latter served as British Prime Minister from 997 to 2007.
He expressed his delight on the fruitful development in the Viet Nam-UK ties, particularly thanks to the UK-Viet Nam Free Trade Agreement (UKVFTA), the bilateral trade value hit US$6.8 billion in 2022, making the UK one of Viet Nam's biggest investor with the registered investment capital worth over US$4 billion.
Pham expected that Tony Blair would continue contributions to promoting the Viet Nam-UK strategic partnership across all sectors, particularly providing recommendations and working together with partners to support Viet Nam in such spheres of digital transformation, green conversion, climate change adaption, circular and digital economy development.
The host called on the guest to help attract qualified investment capital into Viet Nam, including sources from investment funds and corporations from the Europe and the Middle East, and assist the country to develop the southern metropolis Ho Chi Minh City into an international and regional financial center.
Tony Blair, for his side, asserted that Viet Nam always plays a important role in the UK's foreign affairs, lauding Viet Nam's development orientations in which people placed at the center.
He vowed to continue fostering collaboration and supporting Viet Nam to launch projects that are in high demand in the country.
The TBI, a non-profit organization established by former British Prime Minister Tony Blair, aims to support governments to handle challenges in terms of economics, society and politics via building strategies and policies and promoting globalization./.