Top legislator meets British Deputy PM Dominic Raab
VGP – Chairman of the National Assembly Vuong Dinh Hue on Thursday met with British Deputy Prime Minister and Secretary of State for Justice Dominic Raab as part of his official visit to the UK from June 29-30.
July 01, 2022 11:13 AM GMT+7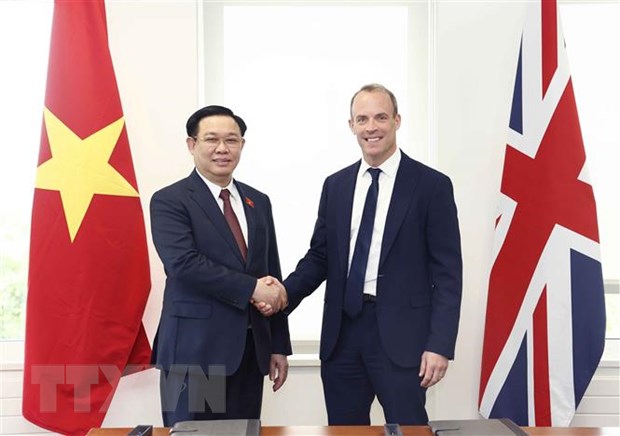 Raab welcomed Vuong to the UK, saying that Vuong's visit would help foster the strategic partnership between the two countries in general and cooperation between the two legislative bodies in particular.

Raab highly valued Viet Nam's rising role and position in the regional and the world, affirming the UK wishes to further step up cooperation with Viet Nam, particularly in such fields like economy, trade, defense, security, education, justice, and climate change among others.
Raab thanked Viet Nam for supporting the UK to become a dialogue partner of the Association of Southeast Asian Nations (ASEAN), hoping that Viet Nam would continue sharing experience to help the UK soon join the Comprehensive and Progressive Agreement for Trans-pacific Partnership (CPTPP).
Vuong expressed his pleasure to visit the UK in his new role as top Vietnamese legislator, and to see the positive and comprehensive growth of the bilateral ties.
Speaking highly of the UK's role in successfully hosting the 26th UN Climate Change Conference of the Parties (COP26), Vuong called on developed countries and international organizations to assist Viet Nam in terms of green finance, technology, renewable energy, and human resource development.
The top Vietnamese legislator welcomed the Group of seven major economies' agreement to support Viet Nam in its energy transition efforts.
Both sides agreed to organize practical activities to mark the 50th founding anniversary of diplomatic ties in 2023, maintain operations of the current mechanisms like deputy foreign ministerial dialogue, joint commission for economic, trade and investment cooperation, and policy dialogue at deputy defense ministerial-level.
Highly valuing the role of the UK-Viet Nam Free Trade Agreement, both Vuong and Raab underlined the need to fully exploit the trade deal's incentives in order to accelerate post-COVID recovery in each country.
Vuong called on British investors to expand investment in a range of sectors like green finance, pharmacy, healthcare, digital technology, education, startup and innovation, infrastructure development, and clean energy.
On multi-lateral aspect, both sides underscored the importance of the rule of law, in which all countries must respect the fundamental principles of international law and the UN Charter.
Sea-related issues must be settled in compliance with international law and the 1982 UN Convention on the Law of the Sea (UNCLOS 1982), Vuong and Raab stressed./.