British Ambassador: Viet Nam's new 2050 net zero target will make big contribution to stopping catastrophic global warming
VGP - British Ambassador to Viet Nam Gareth Ward welcomes Viet Nam's new 2050 net zero target, which is a major step forward in ambition and will make a big contribution to keeping 1.5 degrees within reach, and stopping catastrophic global warming.
November 12, 2021 1:58 PM GMT+7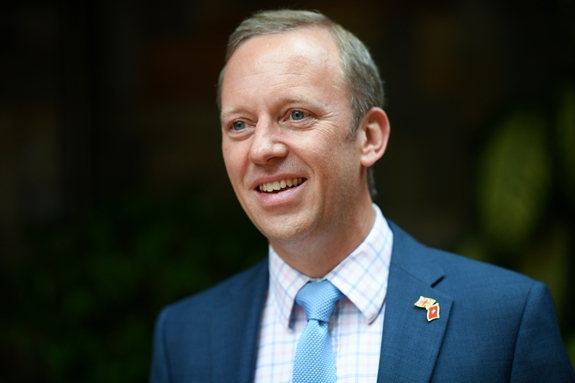 British Ambassador to Viet Nam Gareth Ward
>>> Full remarks by PM Pham Minh Chinh at COP26
In his interview with the Viet Nam Government Portal, Gareth Ward said that, at the 26th UN Climate Change Conference of the Parties (COP26) in Glasgow, the UK, Viet Nam has also agreed to support a number of important statements and initiatives on protecting forests, on shifting to clean energy, on supporting adaptation for local communities, and on methane reduction.
"All of these statements further strengthen Viet Nam's commitment to tackling climate change. We look forward to continuing to work with Viet Nam beyond COP26, and to support the implementation of Viet Nam's new climate commitments and its energy transition, drawing on international climate finance", stated the Ambassador.
COP26 has also encouraged developed countries to come forward with new finance announcements. The UK has increased its climate finance commitment to £11.6 billion in the next four years.
For the ASEAN, the UK has committed £110 million through the ASEAN Catalytic Green Finance Facility (ACGF), in partnership with Asian Development Bank (ADB), to finance green infrastructure projects in Viet Nam and other countries in the region, on areas such as renewable energy, clean transportation or urban infrastructure.
The UK's Prime Minister Boris Johnson also announced that the Private Infrastructure Development Group (PIDG) will commit £210 million of new investment to back transformational green projects in developing countries, including Viet Nam.
An additional funding of £274 million was also committed through Climate Action for a Resilient Asia (CARA), aiming to help build the resilience of economies and vulnerable communities to climate change, improve the natural environment and promote low carbon growth across the Indo-Pacific including Viet Nam.
Gareth Ward underscored that the visit by Prime Minister Pham Minh Chinh to the UK demonstrated that bilateral UK-Viet Nam trade relations are in good health.
The UK and Vietnamese companies and institutions agreed an extensive package of deals and agreements, totaling over £1 billion and spanning a broad range of priority sectors. This included essential deals relating to the development of renewable energy and provision of green financing, both critical in order for Viet Nam to deliver against the 2050 net zero target.
The Ambassador expressed his delight to see deepening ties in education, through new partnerships between UK and Vietnamese institutions and professional bodies. UK companies and policy-makers are supporting Viet Nam with the strengthening of its healthcare system through trade deals relating to digital healthcare and drug manufacturing.
Both nations are strengthening the bilateral cooperation on tech and digital, through trade and investment as well as through closer cooperation between respective ministries. These deals speak to the strength of the bilateral trade relationship, bolstered by the UK-Viet Nam Free Trade Agreement which came into force earlier this year, stressed the diplomat.
By Thuy Dung