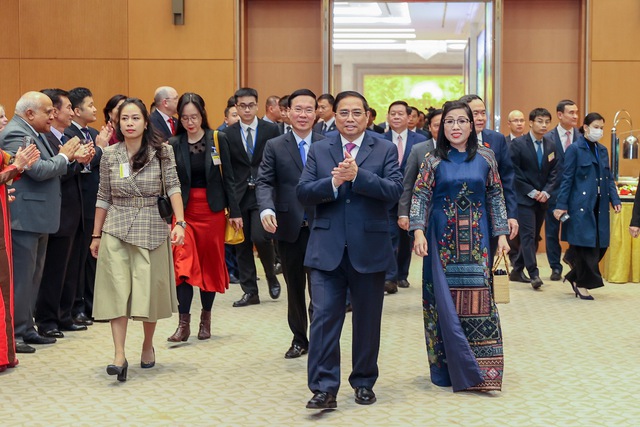 Participants in the event included Permanent member of the Party Central Committee's Secretariat Vo Van Thuong, Vice Chairman of the National Assembly Tran Thanh Man, Minister of Defense Phan Van Giang and Ambassadors, Chargé d'affaires and heads of international organizations in Viet Nam.
On behalf of the Party and State leaders, Prime Minister Pham expressed sincere thanks to Ambassadors, Chargé d'affaires and chief representatives of international organizations for their valuable, practical and effective assistance for Viet Nam over the recent years.
Pham highlighted the spirit of international solidarity and called for strengthening friendship and cooperation as well as joint efforts in handling global issues with a view to building the world of peace, friendship, and inclusive, equitable and comprehensive development.
He also called for enhancing connectivity and tackling difficulties and barriers to promote the development of areas such as production, trade, tourism, service and supply chains in favor of post-pandemic recovery.
The Prime Minister stressed the need to foster innovation and seize opportunities from digital transformation, green conversion, circular economy, and inclusive and comprehensive development.
Viet Nam has been consistently pursuing the spirit of independence and self-reliance, being a good friend and trustworthy partner of countries, being an active and responsible member of the international community, and actively contributing to common efforts towards a better future of the region and the world, he noted.
Pham expressed his hope that Ambassadors, Chargé d'affaires and chief representatives of international organizations will continue upholding their bridging roles to foster collaboration between Viet Nam and other nations.
Speaking at the ceremony, Palestinian Ambassador to Viet Nam Saadi Salama, who is also head of the diplomatic corps, congratulated Viet Nam on its socio-economic performance in 2022.
Viet Nam is a friend, a reliable partner of all countries and a responsible member of the international community and has promoted its role at global and regional multi-lateral forums, he asserted.
Being elected as one of the Vice Presidents of the United Nations (UN) General Assembly's 77th session, to the UN Human Rights Council for the 2023-2025 term and the UNESCO Convention for the safeguarding of the intangible cultural heritage for the 2022-2026 term is proof for the nation's active diplomatic policy, he stated.
He expressed his belief that Viet Nam will have an important voice in further promoting the compliance with international law, the maintenance of global peace and stability, cooperation among countries, multilateralism, and settlement of common challenges for the sake of a liveable planet for future generations./.