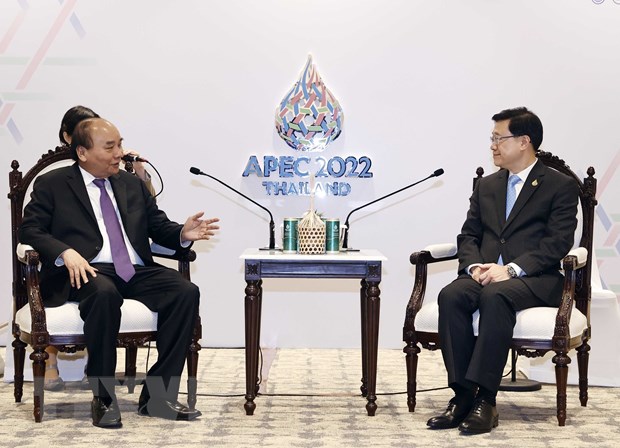 The meetings were held on the sidelines of the 29th Asia-Pacific Economic Cooperation (APEC) Economic Leaders' Meeting.
At the meeting with the Chief Executive of the Hong Kong Special Administrative Region, Nguyen expected that the two sides will strengthen exchanges between their agencies, businesses and people.
The two nations should actively bolster collaboration in economics, trade and investment, striving to raise the bilateral trade value to US$50 billion in the next five years, he said.
The President encouraged enterprises from Hong Kong to invest in sustainable and environmental-friendly projects in Viet Nam as well as advocate Vietnamese firms to take part in trade, investment and tourism promotion activities in Hong Kong.
He voiced his hope that the two nations will expand cooperation in such fields as culture, education, tourism and piloting to receive laborers from Viet Nam.
John Lee Ka-chiu reiterated that the Hong Kong Special Administrative Region attaches importance to the relations with Viet Nam, standing ready to strengthen win-win cooperation with the Southeast Asian nation across all sectors.
He consented with proposals of the Vietnamese leader in a bid to make Viet Nam the largest trade partner of Hong Kong in ASEAN.
He called for both sides to join hands in immigration management work.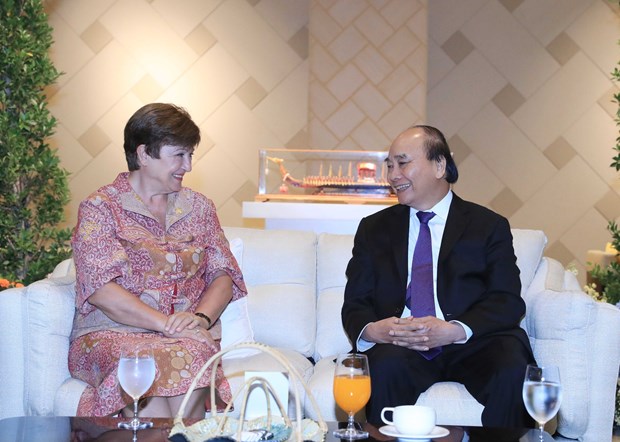 During his meeting with the IMF Managing Director, the President spoke highly of the cooperation between Viet Nam and the IMF over the recent years, remarkably in macro-economic monitoring, restructuring and renewing growth model in Viet Nam.
Nguyen urged all the nations and the IMF to work closely and coordinate policies and guidelines to effectively cope with challenges and difficulties caused by high inflation, economic slowdown, food security and energy security.
Kristalina Georgieva spoke highly of Viet Nam as open, dynamic and resilient economy, and a spotlight in economic growth and stability in the region.
Promoting economic restructuring, transition to a green, clean and sustainable growth model will bring new impetus for Viet Nam's economy, underlined the IMF official.
She expected that Viet Nam will continue making contribution to the global agenda on transforming growth models and securing supply chains, asserting that the IMF will continue support and assistance for Viet Nam in economic monitoring and growth model transformation.
The same day, the President and his spouse arrived in Ha Noi, concluding his official visit to Thailand and attendance in the 29th APEC Economic Leaders' Meeting.