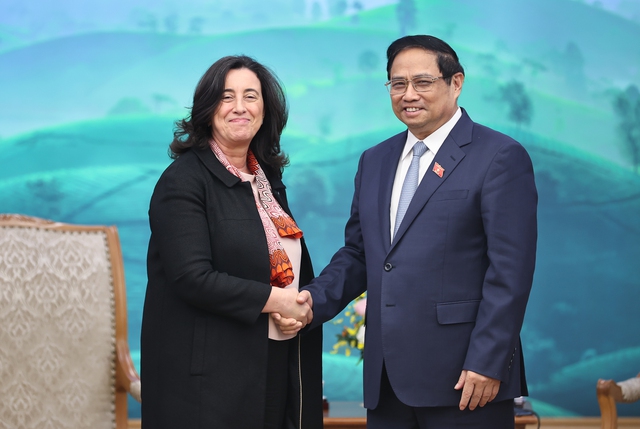 Prime Minister Pham Minh Chinh hosted a reception for Manuela Ferro, WB Vice President for East Asia and Pacific, in Ha Noi on November 14.
The Vietnamese Government regards the WB and IFC crucial development partners, which have supported and contributed to the nation's socio-economic development through policy recommendations and financial assistance, including loans for private sector, said Prime Minister Pham.
He wished seek WB's loans with low interest rates for key, large-scaled infrastructure projects, digital transformation, energy development, low-carbon emissions, smart agriculture, and climate change adaptation in the Mekong Delta.
In reply, the Vice President said that the WB will continue to accompany and assist Viet Nam in achieving its goal of becoming a developed, high-income country by 2045.

She hailed Viet Nam's commitments and efforts toward sustainable development and climate change adaptation.

The WB is actively coordinating with Vietnamese ministries and sectors to identify key projects for future cooperation, said.
So far, the WB has pledged to lend about US$25 billion to Viet Nam to implement more than 170 projects in the fields of transportation, agriculture, irrigation and rural development, education and training, energy, and clean water, budget support, urbanization, environmental projection, and health care.
Both sides are preparing to undertake 29 projects worth about US$2.4 billion sourced from World Bank loans.