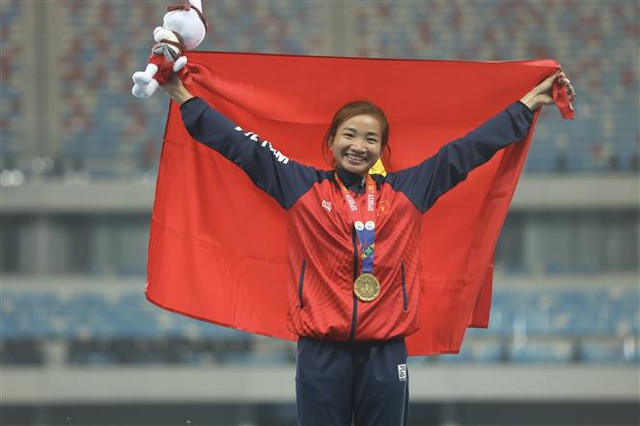 As the organisers changed their schedule, Oanh had to race in the women's 1,500m and 3,000m steeplechase in one day.

The news made national headlines and all were worried for her as she would not defend one of the titles due to such a tough challenge.
However, it was a piece of cake for the Vietnamese
In the first race, Oanh quickly ran ahead to take lead. She created a large gap between eight other runners and finished first in a time of 4min 16.85sec.
Her teammate Bui Thi Ngan secured a silver in her SEA Games debut.
Having no time to celebrate her victory, Oanh had to prepare for the second one which was organized about 10 minutes later.
In this race, Oanh remained her in the second position in most of the time. When it was about 600m left, she made strong sprint to have a solo run to the finish after 10:34.37.
The 27-year-old completed an impossible mission under strong cheering of the supporters, teammates and coaches.
Second after that, her teammate Nguyen Thi Huong crossed the finish to seal a bronze.
"I can't describe how I feel at the moment. I am tired but happy because I complete a difficult task," said Oanh.
"When the new schedule was announced, I accepted and wanted to face the challenge because it was impossible to change.
"I feel grateful to have many relatives and friends who always accompany, cheer and push me up. Thank you!"
Oanh has became the first ever athlete did such job in the SEA Games history.
She has won three golds in two days. She will compete in the last event of 10,000m on May 12.
In other activities of athletics at the Morodok Techo National Stadium, runner Nguyen Thi Huyen took a silver in the women's 400m. Nguyen Tien Trong came second in the men's long jump. Pham Thi Diem placed second in the women's high jump and Phan Thanh Binh was second in the men's shot put. Nguyen Thi Hang had a bronze in the women's 400m.
On May 9, Vietnamese gymnasts wrapped up their competitions with three gold medals.
Nguyen Van Khanh Phong overcame world-class Carlos Yulo of the Philippines to win his first SEA Games individual title in men's rings.
Last year, he lost to Yulo because of a false landing.
"My gold is for coaches and doctors who took care of me when I got injury. I have set high determination after losing to him last year. I asked myself to do better this year. My family, coaches and teammate encouraged me and pushed me up to win," said Phong.
Dang Ngoc Xuan Thien added the second gold in the men's pommel horse as the defending champion met not worthy rival on the way to the top.
The last gold went to veteran Dinh Phuong Thanh who won in the men's horizontal bar. He also took a silver in the parallel bars.
Trinh Hai Khang bagged a bronze in the men's vault.
The gymnastics closed their SEA Games with four golds, two silvers and two bronzes.
Vovinam martial artists pocketed two golds in their last day of competition.
They championed in the performance events of men's and women's multiple training.
They also pocketed three silvers in the men's 70kg class by Truong Van Tuan; and two in the performance of women's pair sword form and dual knife form
The chess ouk chaktrang team also ended their campaign on May 9. Master Doan Thi Hong Nhung took a gold medal for the team in the women's single 60-minute event, defeating Filipino Shania Mae Garcia Mendoza in the final match.
The last gold of Viet Nam delegation on May 9 went to esport team who championed in the cross fire event. They beat Indonesia 3-0 in the grand finale.
Their teammates came second in the league of legend event.
After the fourth day of the SEA Games, Viet Nam had a total of 39 golds to place second in the medal tally.
Thailand jumped to the top with 40 golds. Cambodia also had 39 golds but placed second because their number of bronzes was less than Viet Nam./.