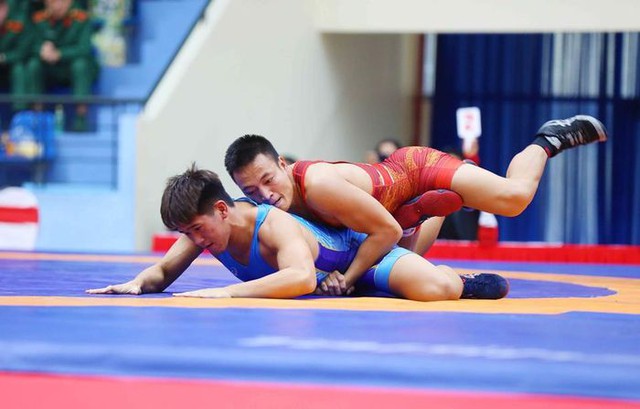 The last six men's Greco-Roman finals were organized on December 11

Nguyen Ba Son of the hosts won his title in the men's 77kg discipline after beating Nguyen The Hoang Anh of Bac Ninh 8-0.
Earlier, Nguyen Cong Manh of Military Team defeated Vu Dinh Quang of Bac Ninh 9-0 in the men's 72kg category. Manh's teammates Nguyen Vu Hoang, Nguyen Minh Hieu and Nghiem Duc Hieu met no difficulties to grab their titles in the men's 82kg, 97kg and 87kg pools, respectively.
The last gold went to Vu Van Hao of the Public Security Team in the men's 130kg class.
After six days of competitions, wrestling wrapped up with a total of 33 events in both men's and women's freestyle and men's Greco-Roman.
Ha Noi placed No 1 with 11 golds, five silvers and seven bronzes.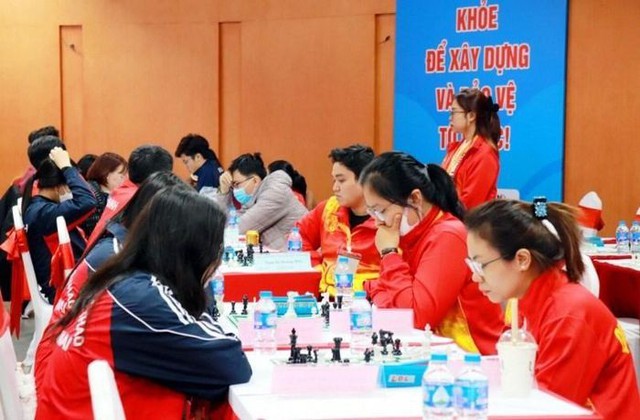 The Military came second winning 10 golds, three silvers and six bronzes and Thua Thien-Hue was third with three golds and three silvers.
"The gap between teams has been narrowed a lot. It can be seen through matches and results," said Ta Tung Duc of the Viet Nam Sports Administration's Wrestling Department.
"Among teams, Thai Binh, Quang Tri, Phu Tho and Bac Ninh have showed their rapid progress in wrestling especially in women's light weights. Their strong investment in wrestling will help the Administration select best athletes for the national team," he said.
In the coming days, the traditional wrestling will be held at the Bac Giang Province's Gymnasium. Athletes' results will be counted in the medal tally of amateur competitions.
In other activities, chess and Chinese chess competitions were kicked on December 11 in Quang Ninh Province.
Eighty four masters from 11 teams take part in the first event is the men's individual Chinese rapid chess at the Quang Ninh Gate Resort in Dong Trieu Town.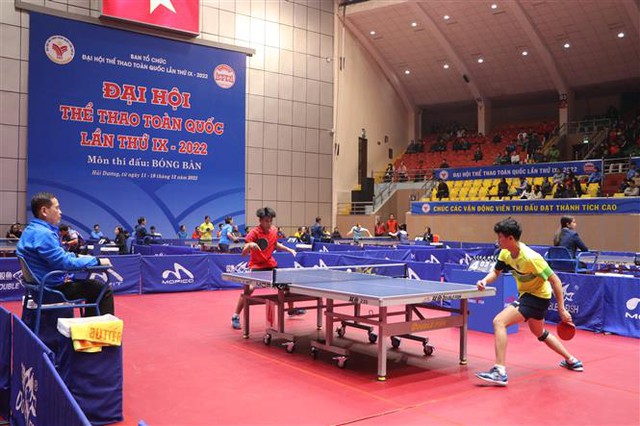 After six matches, master Nguyen Thanh Bao of Binh Phuoc Province is on top place with six points. HCM City's Nguyen Minh Nhat Quang and Phan Nguyen Cong Minh have five points each and are second and third, respectively.
According to the organisers, there are 125 masters, 98 men and 27 women, competing in eight categories in individual and team events of standard, rapid and blitz Chinese chess until December 18.
Title candidates are masters from Binh Duong, Binh Phuoc, HCM City and the hosts.
Meanwhile chess and ASEAN chess is organized at the Quang Ninh Exhibition of Urban Planning and Expo Centre.
Almost 230 athletes from 19 cities and provinces will compete in the men's and women's individual and team's rapid, blitz and standard chess till December 19.
Table tennis competition began in Hai Duong on December 11 with the participation of more than 100 athletes from 13 teams.
They will vie for titles in seven categories for men's and women's singles and doubles and mixed doubles and teams.
The tournament will wrap up on December 18 at the provincial gymnasium./.