Vietnamese athletes win world weightlifting championship medals
VGP — Viet Nam won one gold, one silver and one bronze from the ongoing World Weightlifting Championship in Bogata, Colombia,
December 10, 2022 10:05 AM GMT+7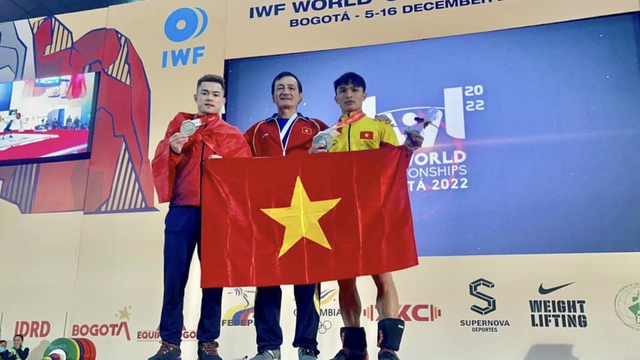 Southeast Asian Games champion Lai Gia Thanh secured his gold in the men's 55kg category's snatch event with a lift of 118kg.

Arli Chontey of Kazakhstan came second with same the weight and Ngo Son Đinh, another Vietnamese athlete, was at third, lifting 117kg.
Thanh however disqualified in the clean&jerk event as he failed in all three attempts.
Theerapong Silachai of Thailand took a gold with a lift of 148kg. South Korean Kim Yong-ho was second with 145kg and Miguel Suarez of the hosts finished third with 143kg.
Vietnamese Dinh also had a result of 143kg but could not advance to the top three.
However, his combined result of 260kg placed him second and give him a silver in the total event.
"Thank you for helping and supporting me for these medals. I'm a bit regretful about the result. But I promise to do better in the next tournaments," Dinh said.
Silachai pocketed his second gold with a combined weight of 265kg. Kim bagged a bronze with a 260kg result.
Viet Nam send best seven lifters to the Colombian event but all other could not make top three.
The tournament was first scheduled in Chongqing, China, but this changed in March due to COVID-19 measures in China.
The world championship, which will wrap up on December 16, serves as qualification for the 2024 Summer Olympics in Paris, France.
There are 10 weight classes for men ranging from 55kg to over-109kg. The women's classes are from 45kg to over-87kg.
Việt Nam did not compete in the previous championships because of the COVID-19 pandemic.
Their latest event was in 2019 in Thailand, where Nguyen Tran Anh Tuan secured a silver in the men's 55kg; Khong My Phuong and Vuong Thi Huyen each took a bronze in the women's 45kg.
The team will return in time for the ninth National Sports Games which officially began on December 9 in Quang Ninh Province, the main location.
Weightlifting will be organised from December 16-20 in Thanh Hóa Province. VNS