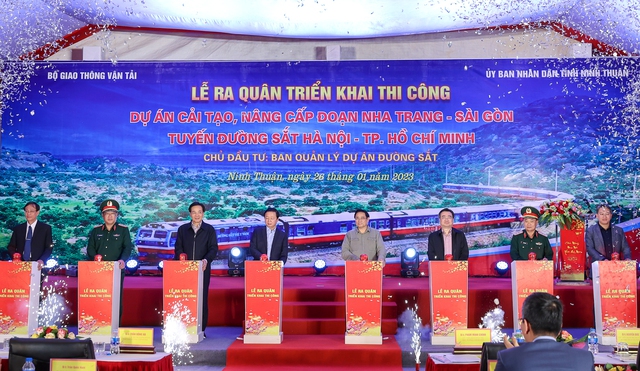 Pham made the above statement at a ceremony held on Thursday to commence the upgrading of Nha Trang-Sai Gon railway section which forms part of the current Ha Noi-Ho Chi Minh City railway.
Last year, the Ministry of Transport proposed a 1,559 km north-south railway with speeds of 320-350kph. The new line with total investment capital of US$58 billion would be used for passenger transportation while the existing one would be used to transport goods.
The first two sections from Ha Noi to Vinh and Ho Chi Minh City to Nha Trang will be built in the first phase that ends before 2030.
Infrastructure development, especially transport infrastructure development, is one of Viet Nam's three priorities of top importance in the 2021-2030 socio-economic development strategy. The other priorities are human resource development and institution reform.
As transport infrastructure development requires huge volume of investment capital, the Government chief emphasized the need to foster public-private partnership in order to mobilize all resources for this task.
In the 2021-2025 period, the Government approved a package of VND3,100 billion to upgrade the existing Ha Noi-Ho Chi Minh City railway, including the Nha Trang-Sai Gon railway section.
The first railway line in Viet Nam and Indochina was built in 1881 with a length of 71km connecting Sai Gon and My Tho – the capital city of Tien Giang province.
By 1936, the railway length increased by nearly 37 times to 2,600 km across the three regions of the country. As the earliest railway system in Southeast Asia with synchronous capacity in both technical – physical terms and human resources, in some periods, the railway plays a very important role, accounting for 30 percent of the total market share of the transport sector, making a positive contribution to the country's socio-economic development and national defense and security.
However, Viet Nam's railway is lagging so far. Investment in the railway industry for many decades only accounted for about 3 percent of the total investment from the Central budget for transport infrastructure.
Currently, Viet Nam's railway network has a total length of 3,162.9 km, of which 2,703.2 km of main lines, 459.7 km of station's inner lines and branch lines. It can be said that Viet Nam's railway infrastructure is outdated, the 1,000 mm gauge lines still accounts for 84% of the total railway length (2,656.2 km), while most countries in the world no longer use it; the 1,435 mm gauge lines is 190.5 km, accounting for 6%; the rest is mixed-gauge length (1,435mm and 1,000 mm).
Viet Nam's railway speed is only about 50-60km/hour for freight trains and 80-90km/hour for passenger trains, while in the developed countries of the world, average speed for passenger trains is about 150-200km/hour, high-speed rail is over 300km/hour and super high speed rail can reach more than 500km/hour./.