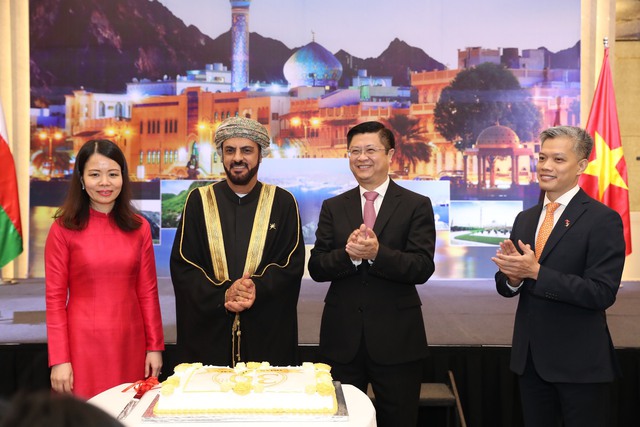 Deputy Head of the Central Department of Foreign Affairs Truong Quang Hoai Nam, Assistant to Minister of Foreign Affairs of Viet Nam Nguyen Minh Hang and Oman's Ambassador to Viet Nam H.E Saleh Mohamed Ahmed Al Saqri attended the event.
The bilateral trade turnover in 2021 reached US$338.1 million, up 100 percent compared to the previous year, an impressive growth despite difficulties caused by the COVID-19 pandemic.
The Viet Nam-Oman Investment (VOI) is a bright spot in investment cooperation between the two nations. The fund has poured more than US$300 million in such areas as agriculture, renewable energy, infrastructure, hydropower and clean water treatment projects in Viet Nam.
Sheikh Nasser Al Harthy, Chairman of the Board of Directors underscored that, the VOI's investment in Viet Nam has contributed to fostering the development of key industries, promoting regional economic development and improving the quality of local people's lives.

Oman, via the VOI, vows to coordinate with the Vietnamese Government to develop renewable energy with the aim of reaching the target of net-zero emissions by 2050 as set out by Prime Minister Pham Minh Chinh at the COP26.
The fund developed 140 MWP of solar power plants in the southern province of Long An and provided nearly 100 MWP of rooftop solar power for hundreds of local and foreign direct investment (FDI) firms, said General Director of VOI Nguyen Hong Son.
In the next five years, the fund targets to a generation capacity of 1GWP from renewable energy sources, which is equivalent to reducing emissions of more than 1 million tons of CO2 annually, he added.
Besides, the VOI has joined hands with other partners to produce and distribute millions of cubic meters of clean water to tens of millions of people in Ho Chi Minh City, Ha Noi and other localities in the Mekong Delta.